Devolo dLAN 200 AVdesk HomePlug AV network adaptor
HD-ready wired networking over your home's powerlines
Installation is simple: plug the unit into the mains then connect it to a computer, network router or other device. Once a second unit's powered on, the two register each other's presence very quickly, which is handy if you're the sort of person who likes to turn electrical gadgets off at night, or someone accidentally pulls the plug on one of them.
Devolo provides software tools to set the network's encryption passphrase - encryption has been upgraded to 128-bit - that run not only under Windows but also Linux and Mac OS X, the latter now as a Universal binary for both Intel- and PowerPC-based Macs. The app allows you to set the password on any networked units remotely, but you do need to enter the security code stamped on the base of each adaptor to authenticate it as part of your network.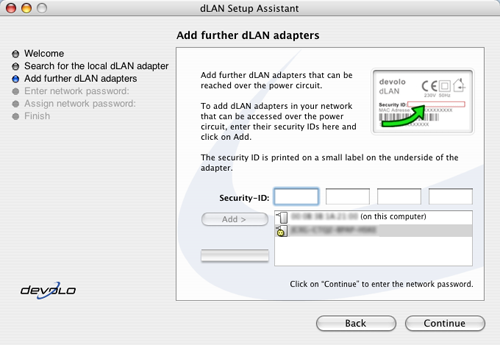 That's essentially it as far as network security goes, but unless you're living in a block of flats that share a meter, you're unlikely to risk treading on someone else toes. Just make sure you set your network's password to something other than the default. Networks can host up to ten nodes easily - you can go up to 32, but on-device memory issues reduce the effectiveness of the network beyond ten adaptors thanks to the way each builds and stores a connection map to all the other nodes.
Some readers may have spotted that the Devolo box uses a 100Mbps Ethernet port - surely a big limitation for a networking technology that runs to 200Mbps? So you might think, but 200Mbps, like 802.11g Wi-Fi's 54Mbps, is a raw, ideal-world data rate and real-world speeds are much slower. You can knock at least 50Mbps off the maximum to cover all the error correction codes and other network protocol traffic that uses up bandwidth. According to Intellon, the best you're ever going to get out of HomePlug AV is 120Mbps, and once signal attenuation over the power cabling has taken its toll you're down to 100Mbps or less. The bottom line, the company told me, is that the 100Mbps delivered by the Ethernet port is plenty for now.
Indeed, the best Intellon guarantees for its chipset is the ability to host two HD video streams simultaneously. That's essentially 40Mbps in total - well within the Ethernet port's capabilities, but not quite what some buyers might have hoped for.
Sponsored: Minds Mastering Machines - Call for papers now open