Abit KN9 SLI Socket AM2 motherboard
SLI for less
Moving on, the KN9 SLI's initial Award BIOS offered relatively few hardcore tweaking options. Abit quickly realised this was a mistake and has since released a more feature-rich version. CPU clock frequencies are now selectable from 200MHz through to 400MHz, PCI Express frequencies range from 100MHz to 145MHz, vCore ranges up to 2.10V and memory voltage climbs to 2.30V. The usual array of memory clock settings are available covering 400MHz, 533MHz, 667MHz or 800MHz and all the typical memory parameters can be manually set to taste. Of course, all these can be left at their default or automatically defined values making life simpler for those who'd rather not scour the murky depths of their system BIOS.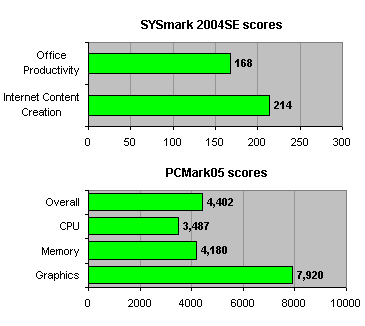 Testing was performed using an Athlon 64 X2 4600+ at its stock 2.4GHz. For graphics we used a pair of Sparkle 512MB GeForce 7950 GTs, which we ran in SLI configuration at their default 550MHz GPU and 1.4GHz memory frequencies. 1GB (2x 512MB) of Kingston DDR2-8500 memory, a Seagate Barracuda 7200.7 hard drive and a 420W Tagan PSU completed the test system.
General performance and stability under extended testing were excellent, and despite some very flaky early BIOS revisions and some inconsistency issues with the latest revision, I didn't run into anything that could be considered serious. Of course, the fact that there have been almost monthly BIOS updates since the end of May suggests that Abit rushed this board out of the gate, or at least released it without thorough in-house testing.
That said, things like improved memory compatibility and the inclusion of a functioning PCI Express frequency lock all served well to dismiss some initial gripes while early POST problems seem to have been all but eradicated, with our particular hardware setup at least.
Verdict
Aggressive pricing, a passively-cooled design and decent stock performance all count in the KN9 SLI's favour but it's difficult to feel any respect for a product that seems to have been nursed through teething problems. It may be that the next BIOS revision will transform this into the must-have Socket AM2 motherboard in its class, but from our point of view it's a genuinely excellent motherboard that fails to inspire confidence in the long term. ®

Abit KN9 SLI Socket AM2 motherboard
A solid design for the gamer on a budget, but keep an eye out for BIOS updates...