Evesham iPlayer HD 80GB DVR
Extra definition for couch potatoes
And Freeview watching is where that hard drive can really come in useful. First, you can pause and rewind live television; once you're used to this, it's invaluable. And you can schedule recordings, simply by selecting them in the on-board electronic programme guide (EPG), which is clear and straightforward to use, complete with channel logos fetched via the net connection.

But, with only one tuner, it still can't record one channel while you watch another, and the 80GB hard drive will store between 40 and 80 hours, depending on which channels you record from - and as little as 12-15 hours, when you start recording from HD channels. The current HD trial broadcasts aren't picked up automatically by the iPlayer, but I did manage to tune in, and the results were excellent, with the Dolby Digital sound fed via the iPlayer's optical output to my surround sound system.
Evesham's response to suggestions that 80GB isn't enough disk space is to point out that you can export recordings from the iPlayer to a shared folder on your network. Unfortunately, in the current firmware, export stops at 2GB of data, which is not quite enough for an hour from BBC 1, though it'll be over two hours from lesser channels. When you do export successfully, you'll have no problems playing the clips on a PC using VLC, or converting for DVD, using tools like MPEG StreamClip.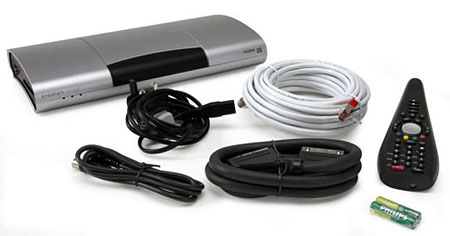 Next to Freeview, media playback is a big selling point for the iPlayer, and the supplied CD contains Windows Media Connect, which can make your PC-based media available - though in fact, once you've created settings for a folder to export recordings to, it will appear in the list of servers to browse as well, though sometimes I had to restart the iPlayer before it would find the network share. In other words you could just use Windows' SMB to share files.
Sponsored: Minds Mastering Machines - Call for papers now open