Carly of La Mancha
Tough Choices is a tough sell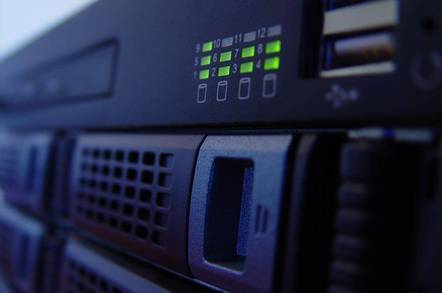 Review It's good to see that a couple years away from the executive ranks haven't diminished Carly Fiorina's embrace of the delusional. Her recent memoir Tough Choices confirms that the same quixotic persona behind HP's yo-yo impression lives on safely in semi-retirement.
Regular readers will know that Fiorina has received a drubbing in these virtual pages over the years. Such criticism, however, came from a place of fascination for Fiorina.
Your reporter, in fact, suffers from an unhealthy Fiorina obsession. Fiorina and I share the same birthday. Her father taught my father at the University of Texas law school. We both have Texas roots, spent time living in Africa and claim strong ties to the UK. And I have both an HP t-shirt and a copy of Tough Choices signed by the pink slip princess. [There you go.]
These biographical ties have fanned a fawning respect for Fiorina, particularly for her intelligence and public speaking gifts. I've never seen a better performance than Fiorina's fierce question and answer session with shareholders during the bitter HP/Compaq proxy battle. Fiorina was Clintonian, but without the moist cigar baggage.
But Fiorina always seemed to wash away her positives by refusing to accept responsibility for her mistakes. She would dance around poor quarterly performances by blaming the sad showings on a one-time technology glitch, confused customers or lackluster efforts by other executives. Fiorina's earnings calls were so far from reality that some reporters and analysts wondered if she wasn't bordering on telling flat out lies.
Even worse, a calloused Fiorina did not come off well when she fired thousands and thousands of workers. She claimed to feel incredible remorse for the moves but lacked the history of sincerity necessary to make you believe her grimace.
With Tough Choices, I hoped Fiorina would be brave enough to cast off her shield of unaccountability and present a more accurate picture of the real gal. Fiorina has spent years complaining about the media's unrealistic, unfair portrayal of her character. What better way to set the record straight than by giving the readers the good, the bad and the ugly.
Fiorina comes closest to looking human on pages 6, 36, 55,56, 69, 148 and 168 when she breaks down in tears. The crying fits occur for a variety of reasons ranging from professional to personal. The reader receives a vulnerable Fiorina quite different from the unflinching CEO.
[Fiorina talks about writing the book and being a businesswoman here, during one of the stops on her book tour.]
But, despite the prevalence of the crying episodes, Fiorina refuses the reader the satisfaction of seeing her as tender in the end. After a run in with a chauvinistic co-worker, Fiorina declares on page 70 that "I made a decision. I would not cry again over others' prejudice . . . I came close to crying during the proxy battle at Hewlett-Packard, and closer still when I left HP, but since 1986 I have saved my tears for more important things: my family, the beauty of nature, Beethoven, a dear friend, the goodness of people, their wisdom, their tragedies or their triumphs."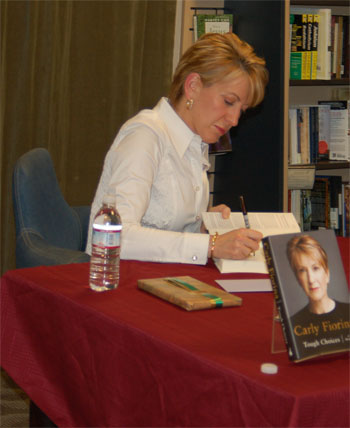 Throughout Tough Choices, Fiorina experiences a number of these life shifting, "I Will Not Cry Again" moments. The young executive, for example, tackles several seemingly futile jobs while working for AT&T and Lucent. Rather than letting the situation get her down, Fiorina vows to make something of the situation and - you guessed it - always makes something spectacular. She encourages downtrodden peers to do their best. She turns bookkeeping quirks into massive money savers for AT&T. And, while she doesn't turn water into wine, Fiorina does pound gin and tonics and whiskey to prove that she's one of the boys.
[Fiorina discusses one drinking binge here.]
It's like a Horatio Alger rags to riches tale for MBAs.
Most reviews of Tough Choices have focused on the harsh words Fiorina has for former Compaq CEO Mike Capellas. The Alphacidal executive is described as "moody, inconsistent, depressed and disengaged."
The same reviews have also gone over Fiorina's struggle with the HP board and the beginnings of the HP spy scandal experienced firsthand by Fiorina, who was a leak suspect.
The boardroom drama business fails to inspire much interest here. Anyone capable of reading a newspaper could discern the dysfunction that consumed HP's upper management. Still, Fiorina spends about one-third of the book discussing such things - no doubt to please gossip mongers and to sell more copies. And why not?
More compelling is the very structure of Touch Choices and its grand omissions.
The book offers the most obvious evidence to date that Fiorina does indeed plan to run for public office.
Sponsored: Minds Mastering Machines - Call for papers now open