AMD launches PC sticker programme
Better by (graphical) design
CES 2007 AMD today launched its latest promotional programme, Better by Design, which, it said, will highlight "outstanding performance and superior technologies in desktop and notebook PCs designed by leading global OEMs". No explicit connection there to AMD products, you'll note, but we'll give the company the benefit of the doubt.
Better by Design is all about attempting to convince buyers AMD-based machines are better than those equipped with technology from the chip maker's arch-rival, particularly now that Windows Vista is knocking on users' doors suggesting they upgrade their hardware.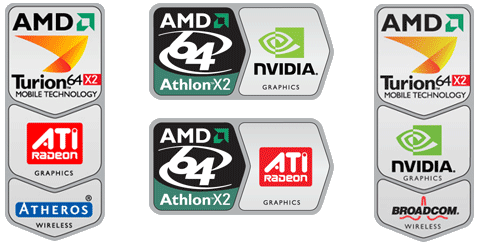 AMD's pitch is so-called openness. In short, vendors aren't forced to buy one vendor's chippery, though that's not entirely the case with Intel either, though the chip giant is working on minimising it by pushing platforms rather than discrete products.
The upshot, AMD said, is that it allows computer manufacturers to produce "truly differentiated" products, though the PC business is now so heavily commoditised and standardised, that that's a questionable claim. Yes, it's nice for vendors to base their machines on components from different companies, but how much difference does it really make when standards like x86, Wi-Fi and Bluetooth make everything interoperable?
Nvidia and AMD/ATI will always have their fans, but how many buyers are as passionate when it comes to which Wi-Fi adaptor their machine has built-in. As long as it works...
Whatever, participants in AMD's programme will be able to slap yet another sticker on their machines, this time with Better by Design written on it. The only limitation: the systems must contain dual-core AMD64 CPUs and be able to "deliver on the promised rich visual capabilities and exciting new features of Windows Vista", by which we assume the company means the ability to run the Aero Glass GUI, ie. a Premium-class system.
Dell, HP, Gateway, Acer, Lenovo and NEC have already signed up to receive their stickers. Component suppliers in the scheme include AMD, Nvidia, Atheros, Airgo and Broadcom. ®
Read our complete CES 2007 coverage at Reg Hardware
Sponsored: Minds Mastering Machines - Call for papers now open