SanDisk readies Wi-Fi music, widescreen video players
CES 2007 SanDisk today introduced its take on Microsoft's Zune music player: a compact Flash-based unit with a 2.2in LCD and Wi-Fi. Called the Sansa Connect, the player is ready to receive internet radio and connect to Plays for Sure music download stores over the air.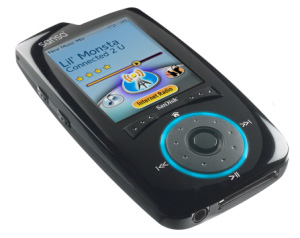 SanDisk's pitch is freedom from a PC. With an all-you-can-eat subscription from Napster, Yahoo!, Virgin or one of the other Windows Media music services, there's almost no need to store songs locally - just grab them from the net as the mood takes you.
Of course, SanDisk neglected to mention just how much all this wireless network activity will reduce the player's playback time.
That said, if 4GB is insufficient for your music and photo slideshow - the Sansa Connect will show pictures, too - needs, there's a MicroSD slot to add more storage capacity.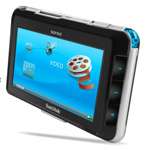 Alongside the Connect, SanDisk announced the Sansa View, its first video-centric device. Behind the View's 4in colour display sits 8GB of Flash storage - again expandable, this time with SDHC cards. The 12.3 x 7.9 x 2.7cm unit has a TV-out capability - SanDisk will offer an upscaling docking station that can pump out a 1080i HD signal - and a rechargeable battery with a ten-hour music playback capacity, dropping to four hours for video.
Finally, the Sansa Express will be aimed at the entry-level market. It's a 1GB device with an integrated USB connector and a 1.1in OLED screen. Some markets will get an Express with a recordable integrated FM tuner, but all versions will support voice recording and provide a 15-hour playback time on a single charge of the Express' built-in battery. Again, there's a MicroSD card slot for expanded storage.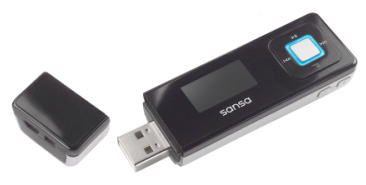 The Sansa Connect is due to ship in the US in March for $250 (£125/€191). The View is also due to ship this quarter, for $299 (£154/€229), with European availability coming in Q2. The Express will ship in the US and Europe in March for $60 (£31/€46). ®
Read our complete CES 2007 coverage at Reg Hardware
Related reviews
SanDisk Sansa e250 MP3 player
Aigo F029 digital video wristwatch
Apple's second-generation iPod Shuffle
SanDisk Sansa c150 2GB MP3 player
Sponsored: Minds Mastering Machines - Call for papers now open