Intel Core 2 Quad Q6600 four-core CPU
Quad-core goes mainstream, sort of...
Moving from a single-core processor to a dual-core is like the difference between night and day but advancing to a quad-core is only beneficial if you put a heavy load on your processor. In general use, we couldn't tell a dual-core system from a quad-core but when the going gets tough the quad-core excels.
Fans of video rendering should form a line here, but whether you buy a Quad Q6600 or an Extreme QX6700 depends on the thickness of your wallet.
So now we have to turn to the price and value for money and this is where things get a bit vague.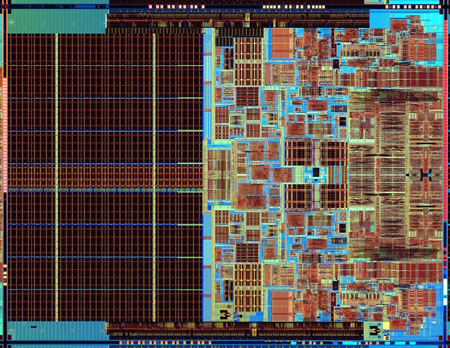 At present Intel is unable or unwilling to tell us the price of the Q6600. However, we have a clue as Windows XP identifies the processor as a Xeon X3220 which will be the workstation version of the Q6600. Our roadmaps tell us that the 3220 will cost $851 - when sold in batches of 1,000 CPUs - which equates to a retail price of £549-599, so we expect the Q6600 to slip into Intel's catalogue at £549-599 which prices it above every Core 2 Duo model. The Core 2 Extreme QX6700 remains at $999.
If our supposition is correct, the performance differential between the Q6600 and Extreme QX6700 is matched exactly by the price difference so you can't call the Q6600 cheap, by any stretch of the imagination. Cheaper, perhaps, but not cheap.
Our roadmap also shows a Xeon 3210 running at 2.13GHz which will cost $690 so it doesn't take much imagination to predict a Core 2 Quad Q6400 that costs £100 less than the Q6600 and retails at £449-499. That helps to fill out the range of quad-core desktop processors but we're still talking about serious money.
But the roadmap's murky: the Q6400 isn't said to be shipping until later in the year, in Q3 2007, though a big price cut may come to the Q6600 in Q2, if industry mole claims are to be believed. Should the Q6600's price fall to $530, as has been suggested, it makes it a much more economical alternative to the Core 2 Extreme QX6700. Slower yes, but offering a better price:performance ratio.
Verdict
Dual-core processors were a major step ahead of single-core CPUs, but the jury is still out on quad-cores. They're likely to remain a niche interest until the price drops significantly and while the Q6600 is a step in the right direction it's far too expensive for the mainstream. ®
Sponsored: Minds Mastering Machines - Call for papers now open

Intel Core 2 Quad Q6600 four-core CPU
Intel launches a mainstream Quad core processor at a reasonable price. Sort of...
Price:
Price estimated $851/£549-599 inc. VAT RRP