The 2.40GHz Q6600 has 90 per cent of the clock speed of the 2.67GHz Extreme QX6700 and in a pure test of processing power such as POV-Ray the performance differential is about ten per cent.
POV-Ray Benchmark Results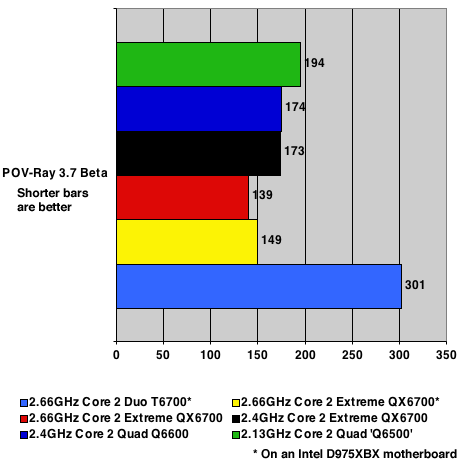 3DMark 06 Benchmark Results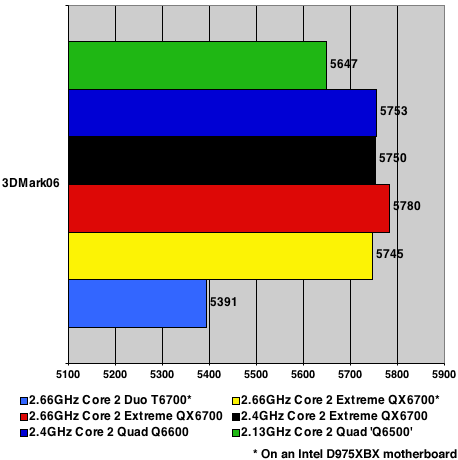 In a more general test, like PCMark05, the picture is far less clear as the Q6600 lags behind the QX6700 by six per cent in the CPU element of the test which equates to five per cent overall. That probably puts too much emphasis on the performance of the CPU.
PCMark 05 Benchmark Results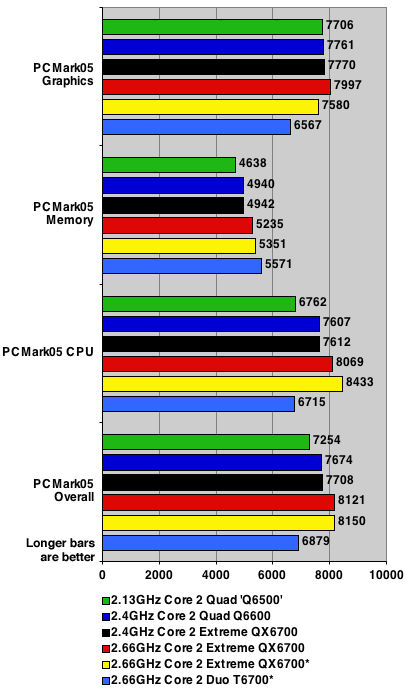 COMMENTS
Re: Prices?
Scan are currently quoting a £574 retail price, bang in the middle of the range suggested by Leo. No mention of when it'll be available, mind.
http://www.scan.co.uk/Products/ProductInfo.asp?WebProductID=530347
Re. Prices?
The Core 2 Quad Q6600 officially costs $851, according to Intel's website, Jack.
That said, it's rumoured to be planning price cuts in Q2, which *should* see the price fall to $530.
http://www.reghardware.co.uk/2006/12/21/intel_quad-core_price_cut/
Tony Smith,
Editor,
Reg Hardware
Prices?
Hmm, I read somewhere that it would be about $530, realisticly making it about £400 in the UK, which is about right, a bit more than a E6700, and a bit less than 2 x E6600