Switching from two tuners to one, combined tuner certainly made an difference, even in Reg Hardware's TV-unfriendly office. Signal strength went up a little, but signal quality rose much more significantly, as the Diversity was better able to separate signal from noise. But even on the many of best channels, the signal quality madly oscillated between 60 per cent and 80 per cent, sometimes dropping to 40 per cent, so while I was able to pick up channels that were unobtainable using the Hybrid's single digital tuner, they weren't really watchable.

FilmFour, alone, yielded a signal quality of 100 per cent. Removing either of the antennae saw that number drop down to 60-80 per cent, but the signal strength was sufficient to maintain a decent picture throughout.
Away from the office, the results were much better, not only with higher signal strength and quality figures, but also - and perhaps more importantly - a higher number of stations spotted when the initial scan was performed.
But it's still not ideal. Yes, using two portable antennae was better than using one, but it's not a patch on connecting the tuner to a single, decent TV aerial, for example. And I found that, sitting at my kitchen table, I got the best reception if I held up the two bundled antennae, arms outstretched. It made for a better picture, but not one that was comfortable to watch.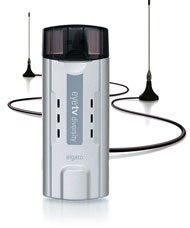 And here's an interesting point. I tried the Diversity at home a few days later and actually got a worse signal in combo-tuner mode than I did switching to two tuners. To be fair, that's an exception, and centred on a single multiplex. The point is, the Diversity's improvements notwithstanding, a lot still depends on your locale.
Elgato claims the Diversity's good for picking up digital TV in a car travelling at 160kmh. I wasn't able to test that, but I'd be surprised if it would work in the UK - Elgato carried the test out in Germany, where I suspect, digital TV is broadcast on a stronger signal than it is here. That's unlikely to change until 2008 when the analog broadcast shut-down begins.
Unlike the Hybrid, the Diversity lacks a video-in capability, so you can't connect it to other devices and view them through your Mac. There's a lot to be said for a twin-tuner module as the foundation of a PVR, but since the Diversity's second antenna doesn't connect using co-ax, you're not going to be able to split the signal from your main aerial to feed both of your Diversity's tuners. That, in short, makes it less than helpful as a device to plug into the back of a Mac Mini media centre.
Verdict
Elgato's EyeTV Diversity does improve terrestrial digital TV reception for Mac users on the move, but here in the UK, the improvement isn't all it could be thanks to Freeview's relatively weak signal strength. And while the twin-tuner product might make a good Mac media center component, that's spoiled by a non co-ax secondary antenna port. The Diversity is a nice product, but for Brits its appeal is limited. ®

Elgato EyeTV Diversity dual-tuner digital TV dongle
The Diversity can deliver better digital reception, but with Freeview it's not a certainty...
COMMENTS
Freeview TV does not even reach all of the UK yet!
The article mentioned that the Freeview signal was not yet as strong as it should be, well it's a lot worse than that in some areas of the UK
On the south coast, the area around Eastbourne, East Sussex receives it's Freeview signal from Heathfield, but due to the signal causing some distortion to the French airwaves, the signal's strength was reduced, thereby preventing most of the area around the South Downs from receiving it. My parents for one, still cannot receive ANY Freeview signal at all.
Which has STILL not been resolved, after years of trying to get the signal increased.
I wonder if it EVER will.
Second connector is MCX
I've actually bought one of these recently to use for our main TV which is hooked up to a Mac mini. The second input does actually use a coax cable, but the plug on the end is an MCX plug, which is a bit unusual. Even Maplins didn't have any appropriate adapter, but there is a guy in Hong Kong who is selling adapters on ebay that a lot of people have recommended (search ebay for "RF Coaxial to MCX Plug Antenna Rooftop Adaptor DVB-T" to find them).
Alternatively there is the quick and dirty method which is to simply cut the cable of the supplied secondary antenna and solder that to a coax cable with a normal RF connector on the other end. That's what I did and it's fairly easy. I just used a splitter then to take the feed from our roof and then plugged that into both inputs. Then I was getting great signal for both tuners and the dual tuner mode works marvellously.
Adapter needed!
The Elgato Diversity works much better if you use external antennas - and that's true of any Freeview device. The problem is the second antenna's connector - the first is the usual Belling-Lee coaxial found on all TVs, but the second is the much rarer MCX. Elgato would do well to provide in the box a MCX to RF coaxial connector; I eventually found one on Ebay for £2.99, but I should not have had to look....