Elgato EyeTV Diversity dual-tuner digital TV dongle
When one antenna won't do, use two...
Review Elgato's made-for-Mac EyeTV Hybrid analogue and digital TV tuner is an impressive add-on for a media centre, but it runs into trouble when you take it out on the road. The UK's terrestrially transmitted Freeview digital network isn't broadcast as powerfully as it could or should be, and the Hybrid's tiny antenna has a job picking it up. Not one to ignore an opportunity, Elgato's come up with a solution: the EyeTV Diversity, a digital-only USB dongle with two aerials...
The Diversity contains two tuners and circuitry that allows it to combine the signals coming in on both antennae to improve the reception. And if you happen to find yourself in a strong signal area, the extra tuner's not wasted: you can use it as a separate receiver, allowing you to watch one digital channel while recording another.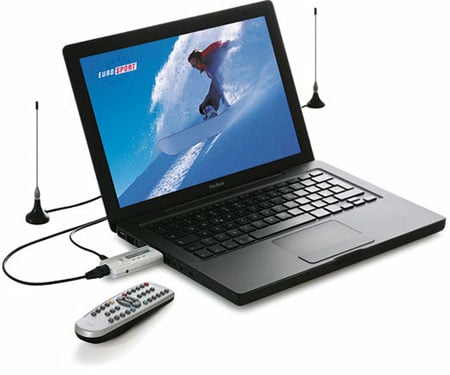 Like the EyeTV Hybrid, the Diversity is about the size of a large USB Flash drive. In fact, the two devices are almost entirely identical. There's a USB connector on one end of the Diversity and a co-axial antenna socket on the other. One one side is a tiny connector for the second aerial - it looks like the external antenna sockets you see on many mobile phones - and round the other side is an infra-red pick-up for the remote control Elgato bundles with the tuner.
The snag here is that the Diversity has to be fitted into a USB port on the left-hand side of your computer if you want to be able to use the remote - though if the back of the Mac's close enough to a wall you may get sufficient reflection for the remote's signal to reach a rear-facing IR port, if you have to plug the Diversity into a different port. And your free USB ports are on the back of the Mac, you'll have to use a USB extension cable. Elgato bundles one, but it's hardly an elegant solution.
Fortunately, like the Hybrid, the Diversity can be controlled using Apple's Mac Remote through Elgato's EyeTV application and its Front Row-like full-screen mode. Elgato's remote, despite its looks, isn't Freeview-friendly. The red button, for example, doesn't call up digital TV interactive features, it just activates the Diversity's picture-in-picture facility, with the other coloured buttons flipping windows, popping up the on-screen controller and so on.
Picture-in-picture requires the Diversity to be set to dual-tuner mode, set in the EyeTV application's Preferences panel. PIP also requires a Mac with 64MB of video memory. Since I reviewed EyeTV in September 2006, it's been updated a little, primarily to add the picture-in-picture facility, and to fix some bugs, so it's a worthwhile update if you already have an Elgato product. That goes double if you also own one of the revised 5G iPods Apple announced in September 2005 - EyeTV's iPod-friendly video converter will not produce 640 x 480 movies as well as the original 320 x 240 setting.
COMMENTS
Freeview TV does not even reach all of the UK yet!
The article mentioned that the Freeview signal was not yet as strong as it should be, well it's a lot worse than that in some areas of the UK
On the south coast, the area around Eastbourne, East Sussex receives it's Freeview signal from Heathfield, but due to the signal causing some distortion to the French airwaves, the signal's strength was reduced, thereby preventing most of the area around the South Downs from receiving it. My parents for one, still cannot receive ANY Freeview signal at all.
Which has STILL not been resolved, after years of trying to get the signal increased.
I wonder if it EVER will.
Second connector is MCX
I've actually bought one of these recently to use for our main TV which is hooked up to a Mac mini. The second input does actually use a coax cable, but the plug on the end is an MCX plug, which is a bit unusual. Even Maplins didn't have any appropriate adapter, but there is a guy in Hong Kong who is selling adapters on ebay that a lot of people have recommended (search ebay for "RF Coaxial to MCX Plug Antenna Rooftop Adaptor DVB-T" to find them).
Alternatively there is the quick and dirty method which is to simply cut the cable of the supplied secondary antenna and solder that to a coax cable with a normal RF connector on the other end. That's what I did and it's fairly easy. I just used a splitter then to take the feed from our roof and then plugged that into both inputs. Then I was getting great signal for both tuners and the dual tuner mode works marvellously.
Adapter needed!
The Elgato Diversity works much better if you use external antennas - and that's true of any Freeview device. The problem is the second antenna's connector - the first is the usual Belling-Lee coaxial found on all TVs, but the second is the much rarer MCX. Elgato would do well to provide in the box a MCX to RF coaxial connector; I eventually found one on Ebay for £2.99, but I should not have had to look....