Dear Santa...
Compo winners Earlier this month, we asked you to tell us about the ideal gadget you'd like to wake up to on Christmas morning - and explain why. Here are the technologies that tickled us the most...
Reader Richard Bryant of Glasgow wants a "a wireless router capable of running Skype and plugging into a DECT phone". How come, Richard?

My wife is from Israel and she likes to phone her mother. And her sister. And her aunts. And her friends. This has been going on for nearly eight years now and frankly, I think we'd probably be providing a lot more work to starving gadget-makers if BT weren't soaking us every time she decides to spend an hour of two holding forth on the subject of whatever it is she's talking about.
Once I know what to get and where to get it from, I will personally fly out there and fit identical kit for her mother and sister on the grounds that long-term, it'll still save me money. I need to find a way for them to all chat from their respective sofas, bathrooms, wardrobes etc. Walkabout Skype seems the only way to manage this without, as currently, suffering the wrath of the quarterly phone bill.
We'd suggest, Richard, one of the many new Wi-Fi Skype phones such as the SMC WSKP100 Skype phone or the Netgear SPH101 Wi-Fi Skype phone, but cheaper alternatives include products from Philips, Logitech and RTX.
In the meantime, there's a Reg T-Shirt on its way to you. Please feel free to wear it in the usual way or use it to cover your eyes when your next phone bill arrives...
Bracken Dawson for Cumbria told us he'd like the jolly bloke in red to bring:

A Remote control to turn your PC on. Because I have an FTP server installed on my PC, and when I was trying to show off the fact I can get most of my files from any of my friends houses, it didn't work. I'd forgotten to turn it on that morning! The device I've scribbled in Paint would work great on a radio frequency, but better by SMS via your mobile phone.
Here's Bracken's concept: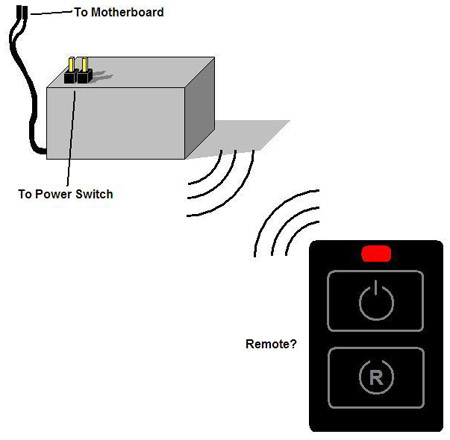 It's a great idea. You could leave your server on all the time, of course, but in these increasingly eco-maniac times, you might end up with an unpleasant surprise when your electricity bill turns up, ahem.
Instead, please accept Reg Hardware's solution. It's only a line-of-sight system, alas, but by waiving a Reg T-Shirt out of the window you can signal a chum or family member in your home to turn on your PC. Batteries not included - or required, for that matter...
However, top marks go to Joe Cincotta who likes to jet between the US and Australia. Here's the splendid gadget Joe has in mind for a 25 December under-the-tree surprise:

Picture it in shiny reflective white. The laser holographed keyboard acts as a high tensile skin to protect the device's touch-sensitive high-density OLED display. The cover would actually allow touch on the 'virtual' numeric keypad when closed - a bit like the old Sony Ericsson P9xx when the real keypad is taken off. I expect the device would run a full version of XP Pro in static RAM and use slower removable Flash for storage. Looking forward to running Visual Studio on it... ;) Expect it to be about 8mm thick...
Until I can get this I suppose a new Ducati 1098 will just have to suffice... Waiting for Santa...
Actually, we'd quite like Joe's UMPC-meets-phone device for ourselves - and the Ducati too, come to think about it, though Santa would have a job getting it down Vulture Central's chimney...
Now we should point out that Joe's the CTO of a technology company, so he's probably patenting the idea even as we write this. Bring it to market, Joe, and you've got a buyer here and we reckon quite a few Reg Hardware readers would be keen to snap one up too.
Congratulations! There's a Reg T-Shirt and a handful of gadget goodies - thank you, Hercules and Gear4 - on its way to you as fast as the globe's postal operatives can ship them all out during the festive season.
Our thanks to Joe, Bracken, Richard and all the many, many other Reg Hardware readers who entertained us with their technology concepts this year. ®
Sponsored: Minds Mastering Machines - Call for papers now open