Microsoft Xbox 360 HD DVD player
High definition for less
But once you've got everything set up and ready to go, be prepared to be amazed by the quality - it's absolutely stunning. I'm serious. If you thought that normal DVDs looked fine, after you've seen the results you won't be able to go back.
Comparing the 1812 Overture/London explosion scene in V for Vendetta between the DVD and the HD versions, the difference was considerable. On the DVD the London skyline seems murky and smudged, while close-ups looked blotchy. Switch to HD and the buildings are crisp as far as the eye can see and faces pin sharp.
Throw in the bundled King Kong movie and the end scene where the ape climbs up the Empire State Building, was also amazing to watch - the Manhattan skyline stretches for miles and you can make out detail far far away. It goes on way too long, but it's pretty to look at.
Put simply, if you're not prepared to buy your film collection all over again on HD DVD, don't go anywhere near this drive - otherwise you'll just be disappointed when you watch standard DVDs.
As the drive uses a standard USB connection, you can also plug it into a PC - providing a cheap way to access HD DVD content. However, to read the disc structure, you'll need to find some additional drivers - of questionable legality - that are currently floating round the internet. You'll also need some software to playback HD DVD movies, of which there isn't any officially - although this will no doubt change come the New Year.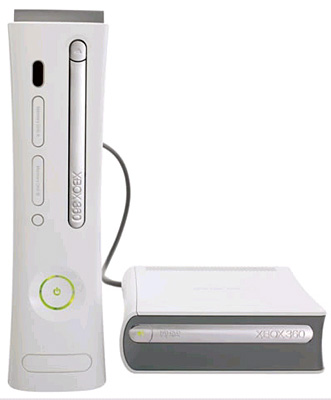 You'll also need to ensure your PC is capable of fulfilling the security requirements - but if you download the Blu-ray and HD DVD Advisor from CyberLink, it should tell you if your set-up is up to snuff.
In terms of noise, you won't hear the drive over the Xbox 360, but that's not really saying much. Provided you're sitting across the lounge, though, you'll only notice it during quiet scenes.
Verdict
Either Microsoft has made a monumental error when pricing this drive or it's being particularly nice - neither of which sound plausible, so snap it up before the software giant notices. Beware though, once you've seen HD DVD you won't be able to go back to DVD, so make sure you've got a large wad of cash to replace your existing video collection. ®
Sponsored: Minds Mastering Machines - Call for papers now open

Microsoft Xbox 360 HD DVD player
Want an HD DVD player without paying through the nose? Pop this in your basket along with an Xbox 360...