NHS 'filth peddler' fights back
Porn-based counter-attack
NSFW It seems Andy Lawler, the man responsible for the Worcestershire Health Authority's Sexual Health Online minge outrage...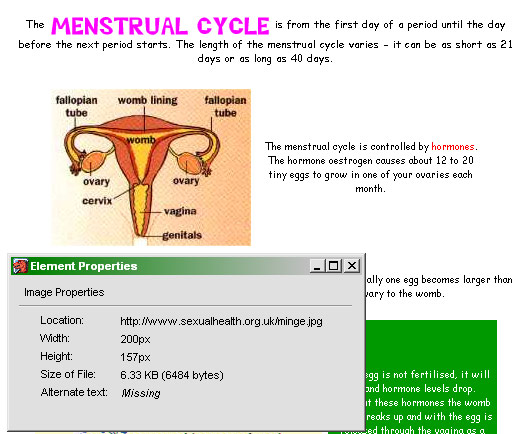 ...has rather taken exception to our coverage of his covert filth peddling. First up, when we ran the original story, he sent this email:
Dearest Mr Haines,

I have taken action to address your concerns regarding the filename "m1ng3.jpg" on a fileserver which is connected to the Internet.

You can find details of my reply by visiting the (now closed) sexual health site and clicking the link at the bottom.

Good day to you Sir,

Andy Lawler
Said link led to this declaration:
www.sexualhealth.org.uk

Please note that the following is purely and expressly the opinion of the author, Andy Lawler. I am in no way professionally connected with, employed by or speaking for the NHS or the Sexual Health Unit.

During the late 90's I (my company AGL Designs) developed the Sexual Health site.

For many years the site has provided information and interface to a raft of young people, yet in recent weeks and days a furor seems to have developed regarding my choice of file naming.

Whilst scanning and assembling multiple images it is my (unfortunate) policy to swiftly apply a filename based upon the first (relevant) word that springs to mind. In this case, a slang term which has caused offence to one or more people.

The Facts

Firstly, I stress that this minor detail was not immediately available to the viewer of any given part of the site, but only to somebody who for reasons unknown might right-click that particular image and go on to view the image properties. Certainly an uncommon procedure for your average surfer.

Secondly, I ask of those offended - - - why? Explain yourself.

If this is because you wince at the notion of your 12 year old "accidentally" reading "http://www.sexualhealth.org.uk/minge.jpg" on their computer screen then that is your privilege but I suggest to you that it is not something liable to cause insult, injury, harm nor offence to the same.

Having been a youngster myself, even at the tender age of 12 (the site does not recommend itself for those below this age) I seldom referred to my favourite organ as "my penis"; and whilst the female equivalent was nothing more than a mysterious and in some ways discombobulating concept at that time; it's medical nomenclature was not commonplace in the playground.

As for my renaming the file, I would also relish an explanation of how "http://www.sexualhealth.org.uk/m1ng3.jpg" created an even greater explosion of outrage?

Undeniably, this was an attempt on my part to poke the eye those über P.C. types who made issue in the first place, but I do not accept that a "casual image property checker" would fall off their chair on sight. It staggers me that this has led to the site having to be closed, and the joke is now over.

The small frothing set of P.C. Nazis who spent time and energy promoting this this tea cup of bad weather have impressively caused a massive surge of hits, exceeding bandwidth allowance for the site incurring cost to the Authority and resulting in the site being closed.

To those who felt sufficiently moved to protect their children by playing their part in the creation of this spectacular and evocative headline "Worcestershire NHS peddles filth to kiddies"* - I hope you feel proud. Should there be a young person in Worcestershire worried about a sexual health matter, you've just seen to it they have less access to information and support than they did before your heroic intervention.

Thanks further for wasting NHS funds paying for the additional bandwidth this campaign consumed and thanks for keeping us all safe from the rude filename on the server on the Internet.

Somewhat ironically, one of Mr Haines previous articles (available to all ages) is headlined "Fjuckby residents demand rebranding. Villagers fjucked off with international ridicule".

Narrow minded busybodies are a fact of life. I embrace them as readily as I do diversity, individualism and freedom of speech (amongst other things). I do however feel my will to live sapped just that little bit more when educated adults make children look grown up.

Andy Lawler
It appears that piece of petulance wasn't enough, though. Although Sexual Health Online is now back up and running, check out where Lawler's original link now goes, and bear in mind this is about as NSFW as it gets.
Tasty. Since Mr Lawler asks us to explain ourselves, we'll oblige. We reckon Lawler and his supporters rather missed the point of our original exposé. As the hack who wrote the headline "NZ finds Black Cocks hard to swallow", I am not noted for an excess of political correctness.
Second up, Lawler no doubt found it highly amusing to use filenames such as "minge.jpg", but mysteriously suffered total sense of humour failure when he got rumbled. For his benefit and that of the readers who wrote in to slam El Reg's fearless coverage of the NHS filth-peddling scandal, here's a handy link which may throw some light upon the way we do business down here at Vulture Central. ®
Sponsored: Minds Mastering Machines - Call for papers now open