Samsung SGH-Z560 'super 3G' phone
Broadband clamshell
A second VGA camera below the main TFT screen allows for video telephony, something that's made possible by the HSDPA connection. The phone can also shoot up to an hour of video with sound in H.263 and MPEG4 formats but only two resolutions are available - 128 x 96 and 176-x-144. To store these and other files, the Z560 comes with 30MB of built-in memory (of which 17MB is free) and a microSD slot for future expansion.
The fully charged Li-ion battery withstood just under four hours' intermittent web and camera use, so if you plan to fully exploit its broadband capabilities the spare battery will come in handy.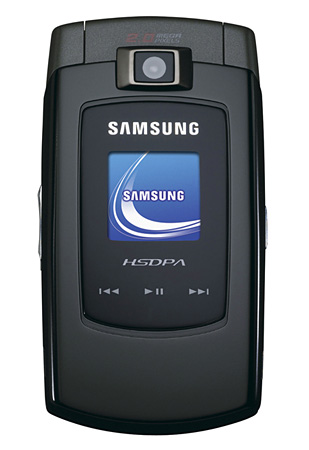 The Z560 is available from T-Mobile at a sliding scale of price plans, from £139.99 to free, depending on which plan you opt for. If you sign up with Web'n'Walk Plus, in addition to a monthly price voice plan, you can use the Z560 as a modem with unlimited internet access (subject to a 3GB per month fair use policy). If you opt for the Web'n'Walk Max version, the fair use policy jumps to 10GB and you get VoIP thrown in.
On modem-use compatibility, the accompanying PCStudio software is PC only, but the Z560 should be configurable as a modem on Macs using the launch2net software from Nova Media – that will set you back around £60 though.
Verdict
The Samsung SGH-Z560 is a pioneer mobile phone, leading the way in the HSDPA handset market. The one thing about leading the way is that others – including web designers – have to catch up; the number of non-mobile-compliant sites make phone browsing a painful rather than rewarding experience. That said, having snappy internet access - albeit variable - is invaluable, as is being able to use the Z560 as a broadband modem on PCs. The Z560's music and digital imaging functionality combine to make this a compelling mobile multimedia offering. ®

Samsung SGH-Z560 'super 3G' phone
Good all-round package for those on the go, but temperamental downloads speeds and small-screen surfing might put some off...
Price:
From free to £140 inc VAT RRP