iKey Plus portable USB recorder
Connect iPod, press Record
The WAV recordings I made of various music CDs were practically indistinguishable from the originals. Only by repeated comparative listening was I able to detect subtle differences such as slight background noise during quieter musical passages.
MP3 recordings were respectable too, but not quite as crisp as the WAVs, even at 320Kbps. Basically, they were marred by a low-level processor noise clearly discernible on certain tracks when the volume was turned up. Hopefully, this is something that can be resolved in a future firmware update. Without a record deck at hand, I couldn't test the phonograph input, but the stereo microphone was ideal for recording interviews and speeches.
Although the irritating MP3 processor noise was largely inaudible on most types of recordings, those planning on recording, say, classical music or a cappella material would be better off sticking to the WAV format.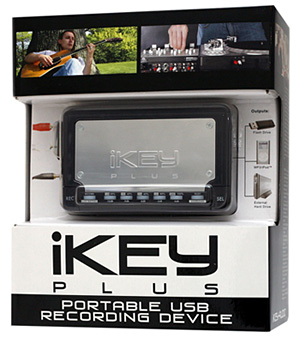 Sound quality aside, recording to my iPod Video was a hit and miss affair. Occasionally, the iKey would freeze, leaving me with no option but to press the reset button and lose the current audio file. Thankfully, I had no such trouble with my USB Flash drive, which worked faultlessly throughout testing. It's just a shame the iKey Plus doesn't have a memory card slot as an alternative to the rather awkward arrangement of protruding USB sticks or dangling iPods.
Verdict
It might not be perfect but the iKey Plus provides an innovative platform for anyone requiring a simple and affordable means of recording high quality audio, particularly in live environments. ®

iKey Plus portable USB recorder
A great portable audio recorder in theory, the iKey Plus is slightly flawed in practice...