iKey Plus portable USB recorder
Connect iPod, press Record
Taking a tour around the iKey Plus, on the left side are the gold plated phono inputs, a 3.5mm mic socket, the record-level control and a three-position input selector. Switching this between the left and middle positions adjusts the iKey's phono input sensitivity to accept either a line-level source or "phonograph" - that's a record player to you and me. Conversely, switching it to the right sets up the mic input.
On the other side are the main on-off switch, DC power input, 3.5mm headphone socket, reset button and, of course, that all-important USB port for your storage device. Port layout is sensible, but because the phono sockets are now recessed, chunkier plugs usually found on high quality leads will not fit.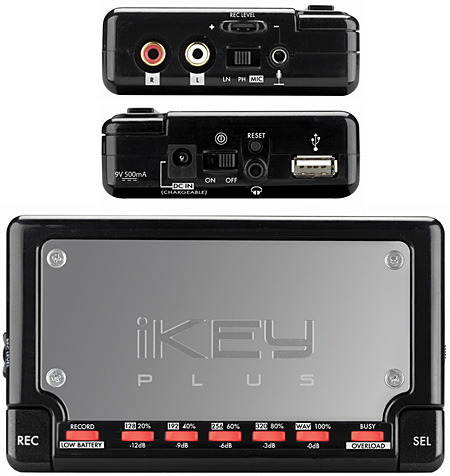 Making a recording with the iKey Plus is straightforward. After connecting it to an audio source and plugging in a suitable USB storage device, the first step is to set an appropriate record level. The decibel level of the input can be monitored - with or without headphones - using the five-LED VU meter display. Ideally, the level should be set so that it occasionally lights up the 0dB indicator. Any higher and the Overload LED will light up to warn of distortion. Next, choose the desired recording format and bit-rate by pressing the Select button until the relevant LED illuminates.
Once you're happy, press the Record button to start recording and again to stop. By repeatedly pressing the Select button while recording, the LEDs will display either the selected recording format, the decibel level of the audio input, or the amount of occupied storage space. Audio recordings are saved in the root directory of the USB drive or in the iPod's hidden Music folder. It's also worth noting that each file is respectively named and numbered according to the format and sequence in which it was recorded, eg. ikey_mp3_2. Before removing your USB storage device an eject procedure must be followed to avoid data corruption. This is done by holding down the record button for three seconds.