Intel vs AMD - integrated graphics shoot-out
Who's best for games - and Windows Vista?
The Evesham Prestige R - the Nvidia machine - came loaded with the latest 93.71 drivers and there were no updates available on the Foxconn website so we ran 3DMarks 05 and 06 to get an idea of the performance and weren't surprised to see that it was fairly rotten. 3DMark06 didn't return a Shader Model 3.0 score as the GeForce 6100 doesn't support High Dynamic Range lighting at the same time as anti-aliasing. The frame rates were low but the pictures looked good so we pressed on and installed The Sims 2, Lego Star Wars II and Myst V:End of Ages, hugely popular titles despite the sneers of some on the first-person perspective shooter camp.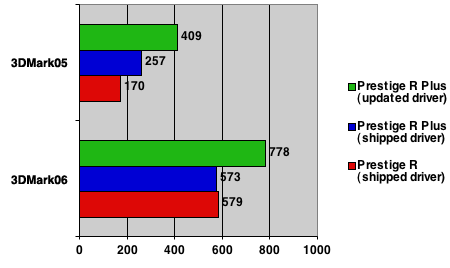 These games aren't graphically intensive in the mould of Half Life 2 and Age of Empires III but they put a fair load on the graphics. Sims 2 requires a minimum 32MB T&L graphics card while Lego Star Wars II specifies graphics that have 64MB of memory with Vertex and Pixel Shader capability and Myst V demands a 32MB DirectX 9.0c compliant video card supporting 32-bit colour.
That's clear enough if you have a reasonable level of technical knowledge but we suspect it would sound like gobbledegook to the average punter on the High Street.
All three games played reasonably well, although Lego Star Wars II was initially very slow and then speeded up, and we were presented with a full range of settings for graphical quality. In the case of Lego we chose to enable bump mapping, bloom filtering and plastic reflections while in Sims 2 we left the default settings which were High. Myst V is an odd case as the screen is displayed as a series of still images. All three games looked good and played acceptably well, and far better than you could have hoped to see on integrated graphics.
 Games Test Results [in frames per second]
 
Prestige R
Shipped Driver
Prestige R Plus
Shipped Driver
Prestige R Plus
Updates Driver
The Sims 2
15
800 x 600
24
1,024 x 768
35
1,024 x 768
Lego Star Wars II
11
1,024 x 768
28
1,024 x 768
No eye candy
28
1,024 x 768
No eye candy
Myst V
24
1,024 x 768
24
1,024 x 768
27
1,024 x 768
Sponsored: Minds Mastering Machines - Call for papers now open