Hercules Tunes Explorer remote control for iTunes
WinAmp, RealPlayer, Windows Media Player too
The Remote's display allows you to navigate your way through iTunes' library, playlists and standard listings like podcasts, internet radio and the app's Party Shuffle feature. That said, they appear on the remote even if you've disabled any or all of these in iTunes itself. You scroll through the display using the side-mounted scrollwheel, pushing the control in to make a selection. Push the Menu button on the front to go back a step.
With a track playing, the scrollwheel cycles through the song's ID3 tags, shown in the top two lines of the display. Pushing the scrollwheel in calls up a screen that allows you to rate each the song, with the rating almost immediately written back to the original track and iTunes' library file.
Likewise, selecting any of the equaliser or repeat-mode settings modifies iTunes' playback accordingly. Ditto adjusting the volume, though while the volume reduction key was fine, the volume up button on the sample unit took a lot of hard presses to get it to register.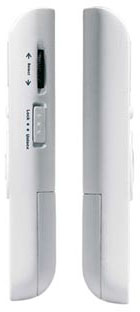 In other respects, the system proved very responsive, loading new albums and songs into the dedicated playlist the software slots into iTunes, and skipping back and forward along the tracklist nice and quickly. If I have a complaint here, it's that the remote is slow to recover from sleep.
Tunes Explorer has a slightly cheap feel about it, but then it is an inexpensive product - just £40/€49.90. A bigger problem for me is the tiny screen. It's not bad, but it is very small, particularly if you're used to a big iPod display - even the Nano's screen dwarfs this one. It's not a read-out you can scan at a glance, and folk with weak eyesight will find themselves squinting at it.
But Tunes Explorer integrates well with iTunes and does exactly what it promises it can do. Logitech's Wireless Music System, which I reviewed earlier this year, operates with an iPod rather than iTunes, but essentially delivers the same result: a remote for your digital music. But Logitech's product is more than twice the price of the Tunes Explorer. Griffin Technology's AirClick is cheaper, but it has no screen.
Verdict
Hercules' Tunes Explorer may be aesthetically challenged - it's no iPod, that's for sure - but it gives you not only full control of your music playback but also allows you to browse your entire music library away from your computer. If only the screen wasn't so pokey... ®
Sponsored: Minds Mastering Machines - Call for papers now open

Hercules Tunes Explorer remote control for iTunes
Control your computer's music player remotely on this tiny-screened gadget...