Hercules Tunes Explorer remote control for iTunes
WinAmp, RealPlayer, Windows Media Player too
Review Not every living-room computer is a Windows XP Media Center Edition PC or a Mac capable of running Apple's Front Row software. Both systems can connect to a TV and provide a remote control to help you select content to play, but there are plenty of older machines out there that have been put to use as song storage systems. What can they use?
Hercules, the once well-known graphics card company and now Guillemot's gadgets division, has the answer: Tunes Explorer, a radio-frequency remote that's tied directly into a range of popular music playback apps. Nothing new there, you might say, but Tunes Explorer has something many other wireless remotes don't: a display.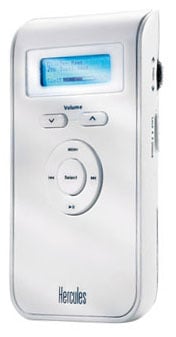 The remote itself is an iPod-sized unit in matte white plastic with a four-line, monochrome backlit LCD of the kind that once featured on almost every compact, Flash-based MP3 player about three or four years back. Below it are a pair of volume controls and a five-way circular control designed to look like an iPod's clickwheel.
On the right-side of the unit is a BlackBerry-style scrollwheel, and a slider key to lock and unlock the unit's other buttons. There's a hatch on the back of the remote for a pair of AAA batteries - not included in the box, please note.
The remote talks to the host computer through a USB-attached rectangular, brick-like wireless transceiver. Hercules pitches the product as an iTunes accessory, but it will work with WinAmp, RealPlayer and Windows Media Player. Surprisingly, it also ships with Mac software, though on this platform Tunes Explorer only talks to iTunes.
I tried Tunes Explorer with my MacBook Pro. The software installs in the usual way, though it drops the control application into the Mac's /var folder, a product of the OS' Unix underlay. The utility is called up at start-up using Mac OS X 10.4's LaunchDaemons facility - or the StartupItems system under previous versions of the operating system.
The HTunesExplorerWireless app essentially communicates with iTunes the selections you make using the remote. After a restart, plugging in the USB dongle launches then hides iTunes. Pressing the Select button on the remote's five-way control to turn it on initiates the link with the dongle and in a few seconds you're ready to go.
COMMENTS
Amount of songs in list limited
I noticed that the lists that have more than 10 000 song at it, will make the device to bug out and turn off. At least it will show my lists up to 8 000 - but not the 14 000 and above. I am DJ besides - and have a lot of music. If this is a behaviour for all devices - it really should be written about in the spec - and especially in the the reviews!
Re. What I'd like to know...
Hi, Trevor
If a product's manufacturer says it will work with Linux, we'll mention the fact in a review. When something's a USB Mass Storage device - which Linux can handle, IIRC - we say so too.
However, we can't connect every other device to a Linux PC on the off-chance it may work. That said, we always welcome contributions from readers who've tried a product and found it works with Linux, and I'd invite them to post their findings as a Comment to a review of the product.
Comments are here for readers to ask questions and provide their own take on any given gadget.
Tony Smith,
Editor,
Reg Hardware
What I'd like to know....
As with all reviews I would like one thing added, what happens when the device is plugged into a Linux box, presumably not a lot. Perhaps El Reg can amend it's reviewers guidlines to include at least a 'Tested Not usable with Linux' as a minimum ?
I also wonder can the usb dongles be bought seperatly from the remote so that you could use it on more than one box (we have a set up in the lounge and a second in the bedroom both of which have access to our music )