Samsung fusion memory to make phones '500% faster'
Has eye on media, gaming handsets
Samsung yesterday said it expects gadget makers to incorporate its newly announced 'fusion' memory chip, branded OneDRAM, into handsets, portable games consoles and media players by H2 2007. They'll do it because the technology "sharply increases" data throughput speeds, the company claimed.
Samsung has already produced a working OneDRAM prototype, a 512Mb device clocked to 133MHz. Essentially, the memory replaces the distinct banks of SRAM and DRAM found in today's mobile devices - hence the use of the word 'fusion' - and allows media and communications processors to share the available memory, which each's space dynamically adjusted according to need.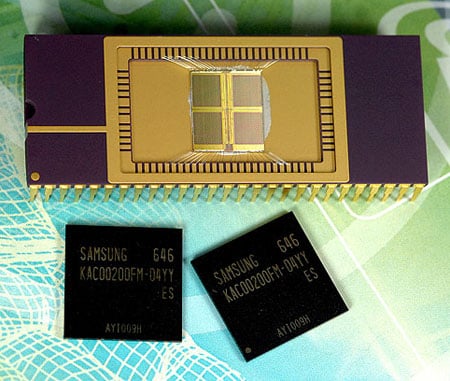 All this ups the handset's processing speed fivefold, Samsung claimed. No wonder it sees the technology being particularly applicable to devices whose media processors also handle 3D graphics.
The manufacturer also touted OneDRAM's low power consumption - the memory requires 30 per cent less power than separate DRAM and SRAM memory banks, it said. The technology also means handsets need contain fewer chips, potentially making them cheaper to produce and smaller. ®
Sponsored: RAID: End of an era?