The overall PCMark05 score of 2,705 is pretty much par for the course, although the CPU score of 5,068 highlights the Core 2 Duo's general performance but also to PCMark's increased use of multithreaded tests.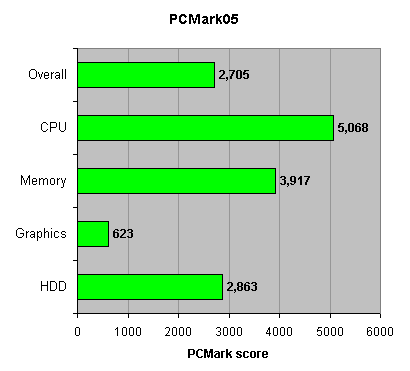 One small annoyance is that the integrated Philips SDVD8820 DVD±R/RW drawer tends to vibrate quite loudly when fed a less than perfectly balanced optical disc. This aside, the 6400 was generally very quiet in operation even when the going got tough.
I strongly suggest that Dell reconsiders the type and amount of pre-installed software. While having anti-virus, anti-spyware and firewall programs are a plus, apps like Google Desktop should be for the user to add later if he or she chooses to. A regular barrage of pop-ups suggesting things be fixed, changed, reconfigured or emailed back to Dell just serve to make the installed software feel sluggish and intrusive rather than reassuring or helpful.
Verdict
With a base price - for the T7200 Core 2 Duo - of £789 inc. VAT and shipping, the Inspiron 6400 is an excellent and affordable route into the Core 2 Duo world. It has all the credentials to be a dependable multimedia companion with its great screen, comprehensive connectivity and decent processing power. But be aware it's neither exciting to look at nor to game on. ®

Dell Inspiron 6400 Core 2 Duo laptop
An unremarkable yet solid buy primed for multi-threaded software...
COMMENTS
Dell Inspiron 9400 fares similarly
I have a Dell Inspiron 9400 with Core2Duo T7400 processors, 17" WUXGA screen. 2GB of memory, and a 100 GB SATA 7200 RPM disk. I concur with your assessment. The 9400 does come with a DVI connector on it.
I don't like the Bluetooth implementation in conjunction with the Logitech mouse. I find its performance spotty.
I have used CPUz and another benchmark to compare this performance to my Dell XPS Generation 3 with Pentium 3.6GHz HT processor. Other than the RAID disk performance, the laptop literally womps the desktop.
Your comment about the extra Dell software is right on target. I stripped off as much as I could and still could not tolerate the performance. After one week, I blew away the laptop and rebuilt it from the Dell media -- way better!
New laptops causing headaches
Interesting that the specs (other than the screen size) are similiar to the new Philips X56 which I have recently purchased.
Alas it came with the new Express Card so my T-Mobile data card is now redundant, however the author may not be aware that there is an adapter which runs PC cards via USB. Sadly its the size of a brick and costs £130.
Interesting also that you raised the point about Dells desire to load the PC with software. When im called out on an Installation, the 3 ISPs, Dells network diags and Google Search are removed, and Mcafee changed to stop harrassing the end user for network passwords. Only then does the PC feel quick.!!