At the heart of any good notebook is the screen and this 15.4in widescreen doesn't disappoint. Our unit uses the standard 1,280 x 800 display but with Dell's Truelife glossy finish. It was bright, sharp and vivid though in common with other similar screens reflections are evident.
Connectivity is well catered for as it must be if it's to carry the multimedia banner with any aplomb. Along the rear edge are the power connector, network and modem sockets, and a pair of USB ports. There's also a VGA port if you want to hook up an external monitor and an s-video connector if you ever fancy watching movies on a suitably equipped telly. A DVI output would have been nice but not essential given the screen quality. Embedded 802.11a/b/g wireless and Bluetooth is also part of the package.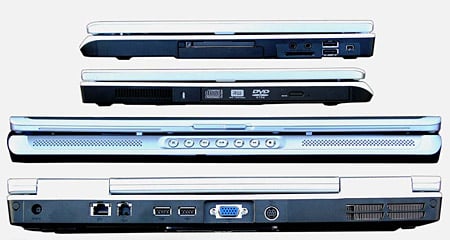 Down the right-hand edge you'll find an ExpressCard slot, and a five-in-one memory card reader supporting SD, MMC, Memory Stick, Memory Stick Pro and xD Picture card. There's also headphone and microphone audio jacks, a further pair of USB ports and a four-pin FireWire connector.
All of these connectors are crammed towards the rear behind the ExpressCard slot - a little unfortunate as it all becomes rather fiddly, particularly if you have a mouse plugged in there too. I'd certainly have preferred to have at least one USB port and ideally the FireWire port mounted toward or at the front for easier access. I should point out that the ExpressCard format isn't compatible with older PC Card/PCMCIA devices, so any that you currently own will be defunct unless a worthwhile adaptor appears on the market.
COMMENTS
Dell Inspiron 9400 fares similarly
I have a Dell Inspiron 9400 with Core2Duo T7400 processors, 17" WUXGA screen. 2GB of memory, and a 100 GB SATA 7200 RPM disk. I concur with your assessment. The 9400 does come with a DVI connector on it.
I don't like the Bluetooth implementation in conjunction with the Logitech mouse. I find its performance spotty.
I have used CPUz and another benchmark to compare this performance to my Dell XPS Generation 3 with Pentium 3.6GHz HT processor. Other than the RAID disk performance, the laptop literally womps the desktop.
Your comment about the extra Dell software is right on target. I stripped off as much as I could and still could not tolerate the performance. After one week, I blew away the laptop and rebuilt it from the Dell media -- way better!
New laptops causing headaches
Interesting that the specs (other than the screen size) are similiar to the new Philips X56 which I have recently purchased.
Alas it came with the new Express Card so my T-Mobile data card is now redundant, however the author may not be aware that there is an adapter which runs PC cards via USB. Sadly its the size of a brick and costs £130.
Interesting also that you raised the point about Dells desire to load the PC with software. When im called out on an Installation, the 3 ISPs, Dells network diags and Google Search are removed, and Mcafee changed to stop harrassing the end user for network passwords. Only then does the PC feel quick.!!