Child catcher handset launched in UK
Order now and have your kids tracked by Christmas
Paranoid parents can now track their children even if the little dears give the nanny the slip or escape from the loving embrace of the Chelsea tractor. i-Kids is a new handset being launched by Mobiles2Go, along with a service specifically aimed at providing parents with the ability to track their children on demand using an in-built GPS receiver.
The handset can only dial four different numbers, and has an emergency button which will dial each of the programmed numbers until a human answers, or it calls the Mobiles2Go call centre to report no one home.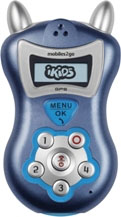 Parents can also set up exclusion zones and be alerted if their child leaves the area, or at least if the handset leaves the area. By sending a text message the location can be sent in a replying message, or highlighted on an online map for easy recovery. The i-Kids will even send the parent a text message when the battery is running low so they can ensure little Tarquin plugs in the charger before it's lost forever.
Quite why anyone should feel the need to track their children this way we're not sure, and once they hit 12 it seems their consent will be needed anyway.
For the truly paranoid, the i-Kids will set you back £100, plus £15.75 a month and 30p each time you want to check up on the little blighter, and can be with you by Christmas day. ®
Sponsored: Minds Mastering Machines - Call for papers now open