HTC QWERTY candybar smart phone to ship as Vox?
US version as Libra
HTC looks set to market its upcoming candybar smart phone with a slide-out QWERTY keyboard as the Vox, leaked roadmap slides reveal. The Taiwanese handset maker showed off the device in September as carrier UTStarcom's Libra.
According to slides published in a report on Arabic-language webside CE4Arab.com, Vox is due to ship toward the end of Q2 2007, pitched as messaging-friendly phone rather than a PDA-phone replacement.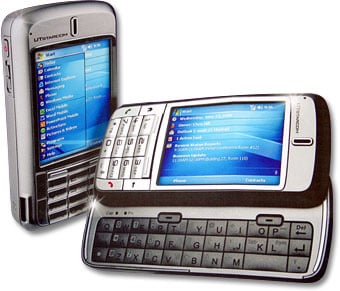 Specification data indicates Vox will ship with 96MB of RAM and a 2.4in, 240 x 320 display that auto-rotates into landscape mode when the keyboard's pulled out. The handset is a quad-band GSM/GPRS/EDGE device and incorporates a two megapixel camera.
In September this year, Libra was said to be set to ship in the US in Q1 2007 with EVDO Rev A support on board. It was said the GSM version would ship later in the year, a timetable that's consistent with CE4Arab.com's dates. ®
Sponsored: Fast data protection ROI?