E-Ten Glofiish X500 GPS smart phone
Lean, mean location-tracking machine?
Using the Wireless Manager utility, enabling and disabling the GSM, Bluetooth and Wi-Fi connections is simple. By tapping the relevant icons you can turn each of the wireless connectivity devices on or off, or deactivate all of them in one go for flignts or to maximise the PDA's battery life.
For a GPS-enabled device you may be surprised to find the X500 comes without any bundled navigation or mapping software. I guess this is so the user has the freedom to install their own preferred package - such as CoPilot Live, reviewed here in its Symbian form - rather than pay for a software brand they don't want. However, there are a few basic GPS applications included to get you started. The GPS Viewer mentioned earlier gives a graphical representation of the satellite data and displays your current latitude, longitude, altitude and speed. Location SMS lets you send someone an SMS message with your current co-ordinates.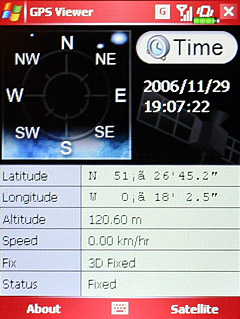 The software wasn't without faults. Even though Location SMS got my co=ordinates spot on, GPS Viewer consistently put me at least 20km South-East of my true location. It couldn't even display the correct symbol for degrees. This appears to be a glitch in the program rather than the hardware as the receiver worked fine with other GPS software. This issue aside, the X500's SiRFStar 3-based GPS pick-up worked very well and rarely took more than a minute or so to lock onto a signal.
Sponsored: Minds Mastering Machines - Call for papers now open