Pravda labels Meryl Streep 'disaster of the week'
Crashfest dummies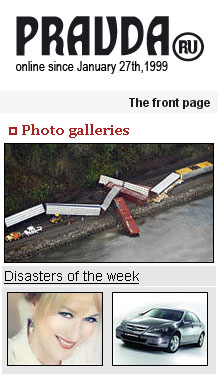 We reckon the English-language version of Pravda needs to have a rethink regarding the snappy photo gallery navigation bit on its front page.
While the top pic does indeed link to a photographic disasterfest, it's a bit strong to label The French Lieutenant's Woman as any other than a roaring Hollywood suceess.
And quite what the poor old Honda Legend is doing there is anyone's guess, since to our knowledge this fine Japanese automobile has never tried to kill a Frenchman. ®
Sponsored: Are DLP and DTP still an issue?