Clusters get personal, while workstations go silent
What the Tier 1s missed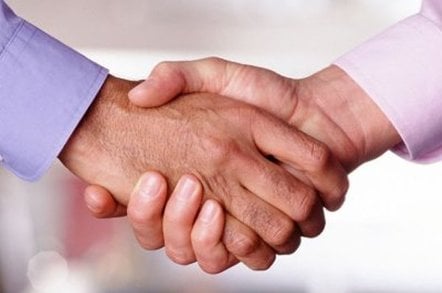 SC06 A couple of smaller time hardware players made a big impression on us during last week's supercomputing conference, showing their ability to extend out of just the high performance computing market. If you're in the market for speedy, compact x86 kit, then you want to check out both VXTech and Microway.
VXTech – a division of Ciara – has jumped onto the personal cluster bandwagon in style with the eight processor Nexxus 4000.
This pedestal box eats up 22.5 inches x 13 inches x 30 inches and is designed to sit underneath an engineer or scientist's desk. When outfitted with 2.4GHz dual-core Xeons, the Nexxus 4000 can crank out 250 Gigaflops of horsepower.
The system also has 32 DIMM sockets, 8 hard disk drives, an ATI ES1000 graphics controller and support for both Linux (Red Hat and SuSE) and Windows Compute Cluster Server 2003.
The VXTech box joins a growing list of so-called personal clusters that plug directly into standard outlets and give customers a ton of deskside horsepower. Orion Multisystems pioneered this market with its 96-processor cluster before folding earlier this year. Now, the likes of Tyan and Penguin Computing have picked up the torch.
Tyan, for example has two Typhoon 600 Series systems. The highest end unit, running on Intel's latest four-core chips, can crank out 256 gigaflops while taking up 21 inch x 14 inch x 28 inches of space. So, the Tyan and VXTech boxes stack up pretty well, although VXTech is currently running on older processors and would seem to leap ahead of Tyan with "Clovertown" chips.
VXTech doesn't have pricing for the Nexxus 4000 on its web site, while Tyan charges $25,000 for a full stacked Typhoon. Away from the personal clusters, VXTech also unveiled its Fusion 1200 box, which it bills as a RISC replacement style system.
The Fusion 1200 ships as a 12- or 24-socket, wheelable unit with Scale MP's software added on for the Unix-like play. Customers can pick from both dual- and quad-core Xeons, up to 192 DIMMs and up to 12 hard disk drives. When turned on it side, the Fusion 1200 needs 6U of rack spice, but standing up it'll cost you 19 inches x 10.5 inches x 30 inches of desk space. Again, this is the type of product aimed at customers working with computational fluid dynamics, computational chemistry and the like, although it can be tweaked for more general purpose tasks.
Had SiCortex not won our Top Flop award, one of these two systems would have taken the prize.
The workstation whisperer
Unheralded Microway also makes some pretty flash gear.
Most impressive to us was the WhisperStation – an Opteron-based workstation.
We put this puppy to the ear test, and it passed in muted style. This single to dual-socket box doesn't make a peep. No fans, no air flowing, no disks spinning – nothing. Apparently, engineers at the likes of Boeing and Goodyear have flocked to the workstation.
Microway has also put out a new InfiniBand storage system that it claims to sell at half the cost of rival gear, some fresh Opteron gear and some combo Opteron/FPGA boxes.
We've got to give Microway credit for dishing out systems that rival all the major players on price, design and cutting-edge technology. Those of you in the market for Opteron systems, in particular, will want to see what this hardware vendor has to offer whether or not you're in the high performance computing market. ®
Sponsored: Minds Mastering Machines - Call for papers now open