Startup takes Reg's coveted 'Top FLOP' award
SiCortex's supercomputing sauce
First to the chip design.
The node chip contains six 64-bit processors, their L1 and L2 caches, two interleaved memory controllers (one for each DIMM), the interconnect fabric links and switch, a DMA Engine, and a PCI Express (PCIe) interface. The PCIe is used for external I/O devices, and is only enabled on some nodes.
And then to the board design.
Physically, 27 node chips and their associated memory DIMMs are packaged on a single board, called a module. Of the 27 nodes on a module, three have their PCIe busses connected to PCI Express module slots, and a fourth is attached to an on-board PCIe dual gigabit-Ethernet controller. The PCIe interfaces are disabled on the other nodes.

With nodes close together, we could build interconnect links that use electrical signals on copper PC board traces, driven by on-chip transistors instead of expensive external components. With short links, we could reduce electrical skew and use parallel links, giving higher bandwidth. And with a small, single-cabinet system we were able to use a single master clock, resulting in reduced synchronization delays.

Our low-power design also has cascading benefits in reducing infrastructure costs such as building and air conditioning, and in reducing operational costs for electricity.
SiCortex also relies on a Kautz topology networking fabric that provides multiple 2 gigabyte per second direct connections between each chip while requiring no external cables or switches. All told, each of the 972 nodes in the large server can get across the entire system network in at most six hops. (You can see the network diagram here, and there's more on SRI's Bill Kautz here.)
The end result of all this engineering is a 6 Teraflop system with 8TB of memory, 6TB per second of interconnect and 250GB per second of I/O that consumes 18 Kilowatts of power. And, while much of the hardware strays from the industry standard path, customers do not need to rewrite their software to run on this box.
Now here's the bad news.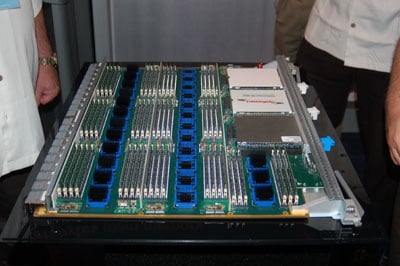 SiCortex has made the classic start-up mistake of announcing product before its ready. We assume that the company wanted to make its big splash at the Supercomputing conference or that its investors forced management to rush the kit out the door, as so often happens when the venture vultures are involved. So, you can look at the eye candy but not receive a demo until the Spring of 2007 or buy a production unit until the Summer.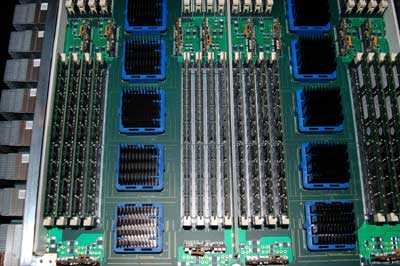 And the bit you've been cringing for?
Well, the big papa will cost around $1.5m with a "typical memory" configuration and stretch much higher if you're an 8TB kind of animal. The smaller system will start out at $200,000.
"Our goal is to pump data centers full of a lot of 6TFlop machines," one of the SiCortex family told us.
It's a noble goal, but one the company will struggle to achieve. How big is the market for $1.5m boxes and how much smaller does that market get when SiCortex rather than IBM, HP, Sun or Dell is selling the system? Who wants to go MIPS and proprietary everything in an age of x86 even if the software runs just the same?
It's while looking at those very serious questions that we're saddened by the state of the technology industry. Here we have 40 very bright engineers that have created a true marvel - a beautiful system that captures and improves upon all of the major trends in the server industry over the past four years. These guys will have the toughest of time cracking the hardware market, and, even if they do, could be confined to a world of low margins. In the meantime, some nimrod who just polished off a Java class at community college can crank out a Google toolbar add-on for the Web 2.0 sophists and retire early.
But pity not the SiCortex crew because they have venture funds of their own and a heck of a lot talent to tap. Most tellingly, Chevron's venture capital arm has pumped a few million into the start-up, paving the way for a possible commercial supercomputing play.
We tend to abhor start-ups and rarely dish out anywhere close to this amount of ink on them. SiCortex, however, has separated itself from the start-up plebs with a system that's the clear winner of our coveted and inagural Supercomputing 'Top FLOP' 2006 award.
The company may just have enough brass pairs to succeed. ®
Bootnote
The graphically impressed will want to check out SiCortex's "When Penguins Explode" animations, while the engineers can go white.
Sponsored: Minds Mastering Machines - Call for papers now open