Cambridge incubator spawns spinoffs aplenty
Are you allergic to VoIP?
Imagine - on my mobile
You'll have been to computer trade shows? These days they all have Bluetooth "listening posts" which you can stop at to download stuff... but imagine being able to scan the local High Street with your mobile? With OnMyMobile, that's exactly what you might be able to do.
The idea probably depends on the general phone user being relaxed about getting unsolicited messages offering to connect to your phone via Bluetooth. You have to opt in; and if you don't, it's just a minor irritation to get the offers.
But if you set your phone to "discoverable" and accept the link from (say) a local cinema, you can find out what time the next show starts - and even download a trailer clip to watch on the tiny display there and then.
"We think it will be useful in museums," said Chris Bale, founder of OnMyMobile. "It will tell you where you are, where to go next, and what sort of stuff you can see in the next room."
Ideas like this have been suggested by mobile operators, of course, with derisory uptake from phone owners who see not the slightest reason to spend their own data dollars on receiving adverts. Bluetooth, however, costs nothing except a tiny amount of battery power.
"The range of the Bluetooth access point - home base - can be as big as you like up to the max Bluetooth allows," Dave Pigott, co-founder. "Or it can be very low power; you could use the phone as a swipe card, working just inside the doorway."
Just to prove what a real startup this is, itsr corporate website, www.onmymobile.com, was not up and running at the St John's Open Day, but you should be able to mail Chris and Dave at firstname dot secondname at that domain.
Food intolerance
Upset tummy? Bad enough to see the doctor, and impressive enough to be referred to a specialist? Do it yourself! - the tests will be easier, faster, and quicker done at home. That is, if you can prick your own finger...
According to the Food Detective's inventors at Cambridge Nutritional Sciences, Irritable Bowel Syndrome (IBS) is a problem for 15 per cent of us. And half the patients sitting patiently through the long and tedious process of trying to work out what's causing it, will find out what the problem is, and be able to quit eating whatever food disagrees with them.
Or else you can see what antibodies your body already has to a wide range of ordinary foods. Take a drop of blood from your finger (accurately measured, of course!) and put it over the Food Detective's scanning tray. A tiny dot for each major food type contains the basic proteins from that - yeast, wheat, chocs, cola nut, egg, cow-milk, and on and on.
Twenty minutes after you've pricked your finger, you wash the blood off, add a chemical to the tray, and watch to see which dots turn blue. Those are the ones to avoid.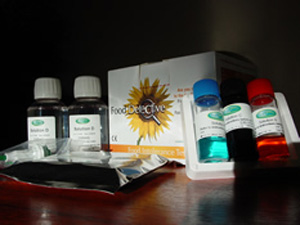 There's a small problem - no, not the finger prick. That's a doddle, because the small kit includes an automated finger-pricker. It looks a bit like a plastic clothes peg, and you hold it to the tip of any finger, and squeeze the trigger - ow! - and there's the blood. No squeamish problems with needles, and no worry about blood poisoning, either.
There's a short piece of capillary plastic. You hold that onto the blood until it soaks all the way through. That you put into a bottle with solvent, which spreads the blood evenly over all the dots.
No, the problem is simple enough: it will only produce a reaction to food substances to which you have an intolerant reaction. Well, for that to happen, you have to actually have eaten the food some time in the last six months.
I'm pretty sure I have an intolerance of chocolate, for example - gives me migraines. But I worked that out years ago and haven't touched anything that comes from a cocoa bean for ages. So it's not surprising to find that right now, my body produces absolutely no kind of antibodies to chocolate.
Mike Walker, wearing the traditional white lab coat ("well, we have to take blood") and rubber gloves, tried hard to sound like a managing director and not a lab technician while making holes in the fingers of visiting journos, explained that normal IBS diagnostics can take months.
"The normal method is to stop eating suspect foods and see if you get better. It can take quite a while before you get any results, and there are just too many foods which could be the cause," he said. "We test nearly 60 food types in 20 minutes, which gives you a good start in working out where the problem is likely to be."
The other problem, he says, is that asking people to stop eating things isn't a simple matter. "Some food stuffs are omnipresent. For example, several people here today have tested as having a reaction for Cola nut. That's not something you buy; it comes as a component of an awful lot of fizzy drinks - as the name implies, it's the source of the caffeine in colas, for example."
Worse than that: your body often has a craving for the very things that hurt it. "So the doctor will tell the patient to avoid things; but the patient finds it all too much effort and has a sneaky snack."
The new-born company has done some trials with Freed Clinic in Croydon, where clinic director Leah Jones has been happy to endorse the Food Detective: "Many patients see the benefits of dietary change within a few days, and we've used Food Detective for a range of conditions - asthma, candida, behavioural issues, low energy levels, all areas wherever food intolerance may have an impact."
More here.
Sponsored: Minds Mastering Machines - Call for papers now open