Through the (walled) garden gate...
How much is stuff you've already bought worth?
As you can see here, searching for clips on the go is almost doable: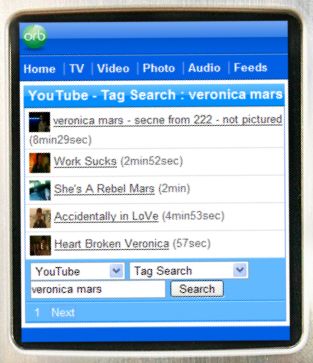 That makes Verizon's news sounds like Dr.Evil holding the world to ransom for "one million dollars". No wonder Orb's Ian McCarthy couldn't resist a little gloat at Verizon when we caught up with him.
"It's miserable," he told us. "From our standpoint, V-cast is an outmoded broadcast-model solution, quite inappropriate for the web in this day and age," he added. "The freedom of mobile access should be matched with the freedom of what you access on mobile."
And it's not only premium content owners - who see their chances of double-dipping mobile consumers recede - who should take note. The Orb announcement is also a sharp reminder to YouTube's owner Google that mobile services need to be planned coherently, from the bottom up. Yahoo! has been signing up mobile operators to make its Flickr photo site easy to access - but where is YouTube's mobile offering? Alas, it was so caught up with being "Web 2.0" compliant, it doesn't seem to have one.
Google's mobile offerings such as Maps and more recently GMail are individually excellent. But it adds up to a piecemeal strategy. Perhaps it needs to do more than rely on its engineers to come up with ideas in their own time. Infrastructure plays don't just spontaneously "emerge", and Orb has just eaten Google's mobile infrastructure strategy.
McCarthy also agrees that the 3 announcement should lay the holy war between "Big Media content" and "user generated content" to rest.
"Your stuff can be your own stuff - media you've already bought or TV you've already subscribed to - or it can be fun user content off YouTube. All video content can now be found on the web for a limited amount of time, because no one can stop it going up. YouTube is the world's PVR. There's no longer any technical obstacle to getting it."
No doubt DIY lip-syncing clips will have their place. But this year we've seen the growth of companies that promote "user purchased content", rather than "user generated content"; Sling Media does what Orb does, via a dedicated piece of hardware kit. The goal is the same - take media you've already purchased or subscribed to, and get it out to any device.
It's an idea so obvious, once you think about it, that you have to ask why the geniuses at Yahoo!, Google or Microsoft - and these are three companies that aren't short of clever people - didn't think of it themselves.
Probably, we suspect, because their ears were filled with "Web 2.0" noise. They thought the web is the infrastructure. Now we know it's just the stuff that gets in the way. ®
Sponsored: Learn how to transform your data into a strategic asset for your business by using the cloud to accelerate innovation with NetApp