Gear4 BluEye iPod-phone adaptor
FM radio and player remote control too
Review When I previewed the BlyEye Bluetooth-based iPod-to-phone connector in August this year, I was impressed by its size, its functioanlity and its price. There were some glitches, of course, but the unit I looked at was a pre-production sample, and developer Mavizen had given itself two months to iron out the wrinkles...
You can read Reg Hardware's exclusive BluEye preview here, but a quick recap's in order. The BluEye is a tiny gadget that's slightly taller and fatter than an SD memory card - it's 3.8 x 2.5 x 0.5cm - that connects to your iPod's dock connector and provides a earphone socket for your usual 'phones. On the front is an iPod Shuffle-like control wheel and a Button marked with the Bluetooth logo. There's a shirt clip on the back, a Hold button on the side, just above the button that activates the BluEye's FM radio.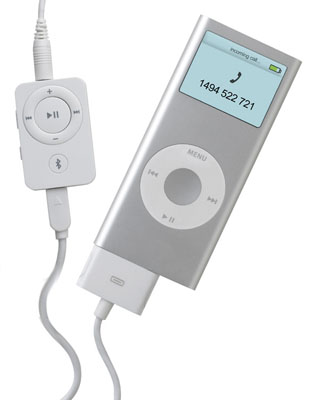 So what we have is a unit that provides the tuner absent from the iPod, allows you to control your music player while keeping it out of sight, and - here's the best bit - links up to your mobile phone so you can make and take calls without touching the handset.
Pairing the phone and the BluEye is easy - there's now visual feedback on the iPod - and the device automatically reconnects to your handset as soon as it's powered up by connecting it to the iPod, for which a cable is included. When someone calls you, whatever you're listening to is paused automatically and if your phone can tell what the number dialling you is, it'll be displayed on the iPod's screen for you to accept or reject. The BluEye has a microphone so you can take calls and use your phone's voice-command system if it has one. When you're done, playback starts again.
Call quality is good, though you'll need to watch where you clip the BluEye as top-mounted microphone is easily muffled. It's best if you talk at it - just leave it dangling down and your caller is likely to wonder where you've gone.
Sponsored: Minds Mastering Machines - Call for papers now open