Nvidia GeForce 8800 GTS graphics card
Cheaper than the GTX, but more bangs per buck?
In F.E.A.R. the frame rate dropped as the resolution increased, just as you would expect, but the differential between GTX and GTS was more pronounced than it had been in the synthetic 3DMark06 test. At 1,280 x 960, for example, the gap was 17 per cent, but at 1,600 x 1,200 it grew to 29 per cent, and when we cranked the resolution to the maximum 2,048 x 1,536 that our monitor could stand the difference was 35 per cent.
F.E.A.R.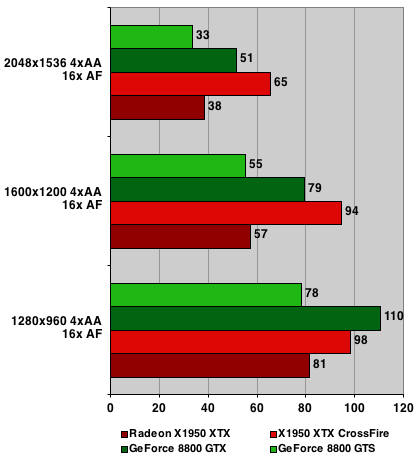 If you intend to use your new Nvidia board to play games at enormous resolutions you're going to need a GTX but otherwise we reckon that a GTS will suit you nicely but on this showing we feel it should be priced at £325 or possibly as low as £299 and not the £375 that's the typical asking price.
Verdict
It's stretching the English language to its limits to call the £375 Nvidia GeForce 8800 GTS a budget model, however it is undeniably cheaper than the GeForce 8800 GTX and it offers stunning performance using DirectX 9.0c and Windows XP. How it will bear up under DirectX 10 remains to be seen. ®
Sponsored: Minds Mastering Machines - Call for papers now open

Nvidia GeForce 8800 GTS graphics card
Powerful but pricey, the 8800 GTS is a worthy alternative to ATI's X1950 XTX...