ESA adds stunning satellite images to Google Earth
Space views of natural phenomena
Google Earth users can now view stunning satellite images of volcanic eruptions, dust storms, colliding icebergs, and other natural phenomena, thanks to a deal between Google and the European Space Agency (ESA).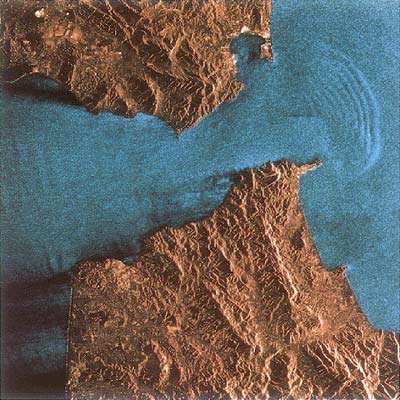 ESA announced that it has made 130 satellite images available to Google Earth to create a new layer of content. As well as the images, ESA is providing detailed scientific explanations and theories to explain the phenomena, and facts and figures about man made landmarks, such as the Palm Island in Dubai.
Google Earth director John Hanke said the collaboration would give people access to some "fascinating information" that would help them understand more about their environment.
ESA Earth observation programmes director Dr Volker Liebig commented: "The imagery has been specifically chosen to afford Google Earth users the possibility to tour the planet from a bird's eye view and to gain a different perspective and appreciation of their planet by witnessing its splendour as well as its vulnerable spots."
He said he hoped the images would create public awareness of the work of the agency and create interest in space technologies "in particular for those related to Earth observation and the protection of the environment".
The pictures have been selected from the library of images sent back by the Envisat mission, the largest environmental satellite ever built, and from the ERS and Proba satellites.
Envisat uses three imaging sensors: Advanced Synthetic Aperture Radar (ASAR), Medium Resolution Imaging Spectrometer (MERIS), and Advanced Along-Track Scanning Radiometer (AATSR).
Each has a specific task. MERIS takes visible light and some infrared images of the clouds and the planet's surface during the day, while the AATSR sensor measures sea and land temperature, tracking forest fires and mapping vegetation. The ASAR instrument uses radar to map the land and profile waves and ice.
The data is used by scientists to track things like El Nino events, deforestation, and pollution. It also provides insight into rising ocean levels, ESA says.
To find out how to access the content, point your browser here. ®