Dell unveils quad-core XPS gaming PC
Latest CPU - not the latest GPU
Dell finally went public with its XPS 710 gaming machine yesterday, equipping the follow on to its XPS 700 with a 2.66GHz Intel Core 2 Extreme QX6700 quad-core processor. Beyond the CPU, the 710 has the same basic spec as the 700: Nvidia nForce 590 SLI chipset, up to 4GB of dual-channel DDR 2 SDRAM and up to 2TB of RAIDable hard drive space.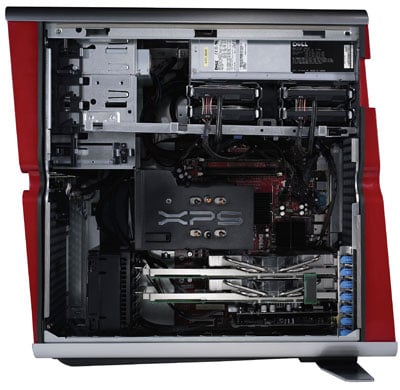 Dell's offering the machine with a choice of high-end Nvidia graphics cards - though not the GeForce 8800 GTX, we notice - delivering up to Quad SLI performance, and a Creative X-Fi sound card. However, the company appears to have dropped the PhysX physics card included with early versions of the 700.
Prices start at $3,699/£2,865, including VAT but not shipping. ®
Sponsored: RAID: End of an era?