Dell swallows reseller minnow
Main course still to come?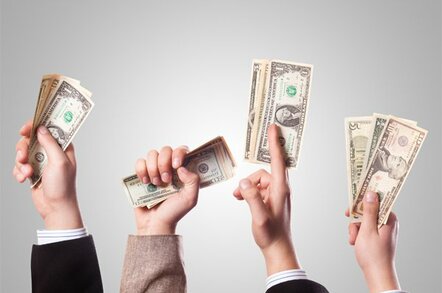 Dell has bought a small Scottish reseller for an undisclosed sum in order to get hold of its consultants.
The $57bn PC giant has snapped up ACS, a minnow that turned over £11.6m last year. The deal marks a big change for Dell which doesn't usually make such acquisitions.
Analysts said Dell had resorted to acquisitions in order to hire the consulting staff they couldn't recruit conventionally. Dell wanted to sell the infrastructure services that were normally supplied by independent resellers, said Kate Hanaghan, a support services analyst at Ovum Holway. But as it was a hardware company, it had trouble persuading services staff to join.
Philip Garner, director of the Lamberhurst Corporation of consultants said Dell's slowing growth in PC sales put it under pressure to take on more valuable services business.
"It just seems strange to buy a little old outfit in Scotland though," he said, "If you think of the size of Dell - unless this is a toe in the water before making a bigger acquisition to take services direct."
Dell's relation with services firms like ACS was fraught with denial for many years. The firm's official stance was always that it sold direct and that it had no sales channel. But many of its customers didn't want to buy direct - they wanted to buy from a local reseller that could provide all the services around the hardware sale.
Dell got around this dilemma by using services giants Getronics and Unisys to do the services around its computer sales, but customers still insisted on buying Dell kit through their local dealers.
By 2004, more independent resellers were selling Dell PCs in the UK than those of any other vendor bar HP, according to market research firm Context. Dell's direct strategy didn't appear to be working, although the firm always maintained that it couldn't do anything about people who bought its computers and sold them on.
So much Dell kit was being sold indirect that the vendor started giving resellers rebates - like other hardware suppliers with a classic indirect sales channel. It also started recruiting partners into a services accreditation programme - like other indirect partners too.
But it hasn't given up on its direct ambitions, as was demonstrated by its purchase of ACS and the cancellation of its reseller rebates a couple of weeks ago.
"They see consulting as high value and a way to get closer to the customer," said Hanaghan.
She reckoned, after a briefing with the Dell, that it had ambitious recruitment plans and that it would probably have to make acquisitions across Europe in order to get all the consultants it needed. The firm prides itself on its organic growth as well.
Dell said it was interested in ACS's application software packaging processes as well, which have something to do with managing the implementation of software across large companies, and which it manages from its office in Pune, India.
There's nothing unique about such a service, and neither Dell nor ACS could explain if there was anything about ACS that made it any better than the many hundreds of other similar firms dotted around the UK, nor why such a tiny acquisition would do Dell any good whatsoever.
But a strand of Dell's strategy might have been revealed by its starting work on a 500-seat call centre in Scotland last year, it's first office there. The call centre, according to a report in The Scotsman, was given a £7.5m grant on the promise that it would create 850 jobs there.
Alan McNeela, an analyst with Gartner, noted that as ACS' application packaging service was situated in India, the costly process of managing it was offshored. Perhaps Dell is onto something.®
Sponsored: Minds Mastering Machines - Call for papers now open