Humans taste of bacon, says gourmet robot
Hmmm, delicious
RoTM There's a commonly-held belief that just about every animal on Earth tastes of chicken* - except, of course, those which taste like steak, or bacon.
In the latter category, according to popular myth, are people - something only Uruguayan rugby players know for certain.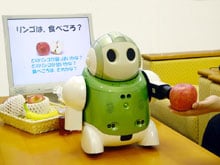 Until now, that is, because NEC earlier this year unveiled its Health and Food Advice Robot which was primarily designed to discern fine wines, but can also sniff out cheese and meats.
It's all pretty straightforward tech: stick a bit of nosh in front of the robogourmet's infrared spectrometer and it analyses the reflected light to determine the chemical composition of the sample. A nice trick, although it can only be programmed to accurately identify a few dozen wines.
Innocent enough, you may think. However, when NEC demonstrated the cybersommelier to a reporter and snapper from Associated Press, the robot claimed the former's hand tasted of prosciutto ham, while the latter apparently had the unmistakable whiff of bacon about him.
Further comment is not necessary, except to warn neoLuddite Resistance Army activists to keep a sharp eye out for Japanese robots wielding frying pans, thick slices of crusty bread and bottles of brown sauce. ®
Bootnote
*Including guinea pig and snake, we gather. Capybara, on the other hand, tastes a bit like steak, in case you were wondering.
The Rise of the Machines™
Satnav orders German into toilet (24 October 2006)
Lizard Alliance targets Turkish PM (19 October 2006)
Washing machine attacks Icelander (9 October 2006)
Volkswagen unleashes 150mph self-driving car (4 July 2006)
Police arrest satanic BMW victim (20 June 2006)
Iraq grunts mourn loss of robot comrade (25 May 2006)
Bendy bus attacks Leeds cake shop (25 April 2006)
Captain Cyborg acquires Dalek capability (20 April 2006)
Man survives satanic BMW crash-and-burn (13 March 2006)
Second Freeview box signals alien invasion fleet (15 February 2006)
Lizard Army fuses woman with black helicopter (4 November 2005)
NRA probes Japanese sex android (26 August 2005)
Androids launch minicab firm (15 July 2005)
Beware the breast-examining hand of death (13 July 2005)
Lizard Army Neo-Mech menaces eBay (13 July 2005)
Vampire robonurses hunt in packs (6 June 2005)
Cornell Uni develops apocalypse cube (13 May 2005)
Sex android begats Armageddon machine (22 April 2005)
Man executes Chrysler (21 April 2005)
Rise of the man-eating cyberloo (24 March 2005)
Sobbing Frenchman recounts Renault Laguna terror ordeal (18 March 2005)
Fire-breathing bus attacks South London (14 March 2005)
Dyson unleashes self-replicating hoover (11 March 2005)
Battling teen crushes roboarm menace (8 March 2005)
French join motorised Lizard Alliance (22 February 2005)
Lizard Army develops copulating robot (11 February 2005)
We are Zogg: The Cuddly Menace (9 February 2005)
Lizard Army invades Alaska (27 January 2005)
London menaced by flaming DVD players (12 January 2005)
Killer hoover attacks Scotsman (24 December 2004)
Car self-destructs in assassination bid (17 December 2004)
The rise of the rat-brain controlled android (16 December 2004)
Boffins unleash robotic cockroach (15 November 2004)
Ukrainian teen fights the Rise of the Machines™ (13 October 2004)
Man in satanic Renault terror ordeal (7 October 2004)
Killer cyberappliances: Satan implicated (28 June 2004)
US develops motorised robobollard (29 April 2004)
Killer cyberloo kidnaps kiddie (22 April 2004)
Fire-breathing buses threaten London (24 March 2004)
Cyberappliances attack Italian village (11 February 2004)
Cyberloo blast rocks Stoke-on-Trent (10 February 2004)
Cyberkiosk assaults Spanish teenager (8 December 2003)
Hi-tech toilet caught on camera (19 April 2001)
Hi-tech toilet swallows woman (17 April 2001)
Sponsored: RAID: End of an era?