SMC WSKP100 Skype phone
Another white Skype Wi-Fi phone
Call quality was fine at the SMC end of the conversation but none too good at the other end, especially if the other person was using a PC headset, rather than a Wi-Fi handset. This wasn't an issue with the connection to the router and it left us baffled, but worse than that, it's annoying, as the odds are that you'll be calling a headset user more often than not. If this is a feature of the hardware and in particular of the TI OMAP 1710 chip, then we doubt that there will be a satisfactory resolution any time soon.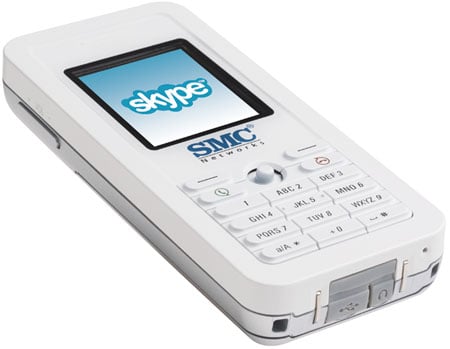 Clearly this is a significant issue but we were more concerned by the question of the wireless connection. If you use your Skype phone in the home or office to free you from using a PC headset, then you'll likely find that the SMC is a decent tool, although the cost is quite steep. You make the call as you walk around or lean back in your chair and when you're finished you can plug in the USB cable to charge the battery. It's not ideal but it works and you're saving the cost of a POTS call without being tied to your PC or laptop by wires.
When you're out and about the idea is that you connect to any available Wi-Fi network, which is fine provided you can see the network and enter a WEP key if the network is protected. The problem comes when you want to use a public hotspot as the handset doesn't have a browser and hence you cannot log on in the usual way. SMC is clearly unable to change the way that the hardware works and has instead tackled this problem by making a deal with The Cloud
Provided you are within range of a Cloud hotspot you get a free Skype connection and don't have to do anything more complicated than roam onto the network. That's great if you're sat in a pub that is covered by The Cloud but we doubt you'll get so lucky when you're on holiday, driving through the lanes, walking down the High Street or, well, just about anywhere really.
Verdict
We doubt that anyone will replace their DECT handset or mobile phone with a Wi-Fi Skype phone any time soon. SMC has done its best to get round the connection issue by working with The Cloud but for the time being we're going to have to wait for telecom convergence.
Sponsored: Minds Mastering Machines - Call for papers now open

SMC WSKP100 Skype phone
Teething problems aplenty, although it does what it says, just not very well