NEC adds VoIP to thin clients
Prefers VMware to Citrix for virtual PCs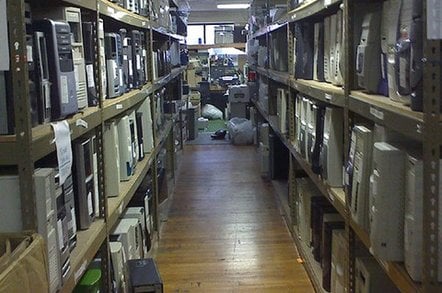 Why provide thin clients only with remote access to applications, when you can give them a full VoIP-enabled Windows XP environment on which to run standard PC software? That's the question posed by NEC with its Virtual PC Centre, or VPCC, which combines thin clients with VMware and VoIP.
The company claimed that its converged €450 (£300, excluding screen and keyboard) thin clients provide the multimedia capabilities of a PC with the lower admin cost and greater security of server-based computing. It uses VMware's virtual desktop interface (VDI) to run up to 20 clients off one dual-processor server.
"We re-create a normal Windows desktop on the server, then transfer the screen. It creates an individual environment for each user – it's very different from the shared environment of Terminal Server," said NEC solutions marketeer Arnaud Gardin. Even the IP softphone runs on the server, he added.
The US100 desktop and TM160 mobile thin clients are based on NEC's own NetClient system-on-a-chip and allow you to plug in a phone headset directly. They connect to rack-mounted NEC SV5800 servers which run their XP sessions under VMware, and to an admin server which handles resource allocation plus application deployment and patching.
NEC also offers an IP telephony server to look after the VoIP side, and suggests using NAS or a SAN for back-end data storage.
The company said that the development of VPCC pulled in expertise from three NEC divisions – Components for the system-on-a-chip, plus graphics and audio decoders; Networks & Telecoms for VoIP; and its computing group for the servers and admin tools.
The US100 is the size of a fat paperback, silent and consumes just 13W of power. NEC said that its target customers include call centres, education and training, and healthcare.
Few other thin client manufacturers have anything like this, according to NEC. The company is not alone in putting VoIP into a thin client though - German outfit Igel has been doing it for some time, although it takes a different approach, instead embedding VoIP software into the desktop hardware alongside the Citrix client.
However, NEC's Gardin claimed that VPCC could be at least 30% cheaper than a similar Citrix-based set-up. "We don't need Citrix because it doesn't broadcast the applications," he said. ®
Sponsored: Minds Mastering Machines - Call for papers now open