NetApp wraps up 4Gig SAN-in-a-box
Midrange NAS/SAN hybrid targets EMC and HP once again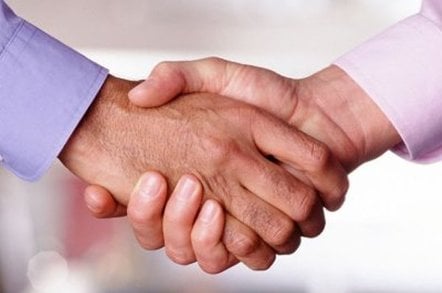 Network Appliance has released its first systems with native 4Gbit Fibre Channel, filling out what it said was a gap in its line between its mid-range FAS3000 and high-end FAS6000 families.
Priced from just over €97,000 (around £65,000), the FAS3070 is an upgrade to the 2Gbit-equipped FAS3050 - you can move from the latter to the former by swapping the controller - but NetApp wants it to be seen as a step up, rather than the replacement it resembles.
The FAS3070 - and its V3070 sibling, which is a virtualisation head designed to attach to non-NetApp storage on a SAN - can host up to 504 drives for a maximum of 252TB. Its controller has 16GB of memory (twice that of the 3050), six PCI Express slots for expansion, and eight Gig Ethernet ports for NAS or iSCSI use.
Like the other FAS boxes, it can be used as SAN or NAS, providing either block-based storage volumes for applications or working as a traditional file server.
"The 3000 range is well established, but customers wanted more scalability," said Paul Hargreaves, a NetApp consulting systems engineer.
NetApp also seems to be having a little difficulty separating its midrange and high-end systems - Hargreaves said customers have preferred the price-performance and size of the 3000, though he added that a 3000 to 6000 upgrade is also possible via a controller swap.
Indeed, that easy compatibility across different models is one of the things that NetApp touts as a significant advantage over the likes of EMC and HP. It claims that moving from a 3000 to a 6000 is equivalent to going from an EMC Clariion to a Symmetrix, or from an HP Storageworks EVA to an XP, processes which it says would require a tedious data migration.
Hargreaves said that, far from NetApp's NAS-only origins, most of its FAS shipments are now used as SAN-type block storage too. "Our focus tends to be on applications rather than file sharing," he added.
"We tend to look for a customer problem that we can solve simply, and expand from there. If the customer already has disk, we can offer the V series - that does SAN and NAS too."
He said that NetApp was announcing several software updates alongside the 3070. For example, it added Exchange 2007 and Oracle 10g v2 support to its SnapManager data cloning software, and released a new version of its Virtual File Manager to support NAS file migration and consolidation.
The company also introduced some new software, most notably Protection Manager to automate data mirroring, and CommandCentral to manage heterogeneous storage resources.®
Sponsored: Minds Mastering Machines - Call for papers now open