Chargers on the go - Motorola P790 vs. Exspect ReCharge4
Mobile battery backup for your... er... mobile's battery
Motorola P790
The most striking part about the Motorola P790 is the design. At first it looks like Motorola's PEBL phone, though it's smaller. The casing is made from the same soft rubbery material and it fits comfortably in your hand. Motorola doesn't supply an AC charger, which might seem strange at first. Instead, it uses a standard mini USB plug.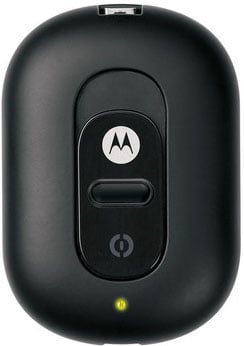 This means that you can use the same charger that came with your Motorola phone, or any with other device that uses a standard mini USB connector for its charger - or a PC's USB 2.0 port. To charge a device, push the slider on the P790's front. This extends a second mini USB connector and powers on the P790.
Motorola claims that the P790 is good enough for up to two full charges, depending on what it is you're charging from it. As an optional accessory you can get a splitter cable that allows you to charge a phone and, say, a Bluetooth headset at the same time.
Each of the P790's USB ports are fully linked, so you can connect it to a PC and to a phone and synchronise them both while charging.
Besides the fewer number of charges you get out of the P790, you can't use it with devices that use any other connector than mini USB, although this isn't really a fault so much as a design choice by Motorola. The P790 will set you back in the region of £26.
Verdict
Here are two different takes on the same portable charger idea. Neither is bad, although the products have different audiences. It really comes down to what type of connectors your devices use.
Saying that, the ReCharge4 could've been a lot better if it had used a standardised charger connector and a slightly less fiddly adaptor set-up. But then it has a flexibility the Motorola P790 lacks.
Neither will replace the trusty wall charger, or even a car charger, but these are items you can keep in a bag until you need them. Well, sort of. You've still got to keep an eye on them lest they too run flat over time, which is the last thing you want to discover when your mobile's about to give up the ghost. ®
Mobile chargers: Motorola P790 vs Exspect ReCharge4
---
| | | |
| --- | --- | --- |
| | Portable power supplies to keep handy in case your mobile's battery runs dry... | |
Sponsored: Minds Mastering Machines - Call for papers now open