Sun CEO doesn't know what a bubble looks like
They're round and full of profits, silly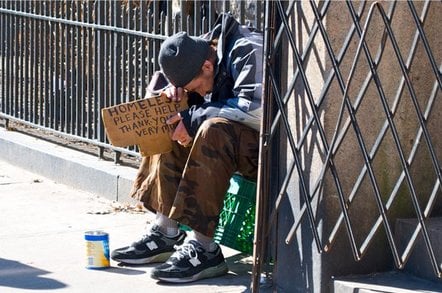 Leave it to a veteran technology reporter like the New York Times' John Markoff to start a conversation just right.
"So, it seems like we've gone past being the walking dead," Markoff noted, as he sat down last night with Sun Microsystems CEO Jonathan Schwartz at a Churchill Club event in Santa Clara.
"No offense taken," Schwartz replied.
Just a couple of years ago, numerous pundits still referred to Sun as "the next SGI." They wondered how the company could hang on with its Solaris on SPARC play dwindling and only the low-margin realm of x86 servers to turn to for help. Sun still had billions in the bank as a type of life support system that SGI could only dream of, but it was hardly thriving.
Of late, however, Sun has looked much healthier. The server maker has grabbed Unix server share from IBM on the high-end, while attacking all rivals on the low-end thanks to its flashy, mutlicore UltraSPARC T1 chip. Elsewhere, Sun continues to build out its now $600m a year x86 server business - largely at the expense of Dell.
Schwartz went so far as to note that analysts used to ask him how Sun could be more like Dell, and that those same analysts now wonder how Dell can be more like Sun.
Easy, kids, let's not get carried away just yet.
While Sun's growth has been impressive, the company has yet to reach the one, obvious target of profitability. It's hard to take a company that pulls in $14bn per year seriously until the black ink starts to flow.
That missing profit has cramped Sun's effort to expand its business, according to Schwartz.
"When we show up with a GAAP loss that doesn't help," Schwartz said. "Acquiring the next customer has become quite difficult."
CIOs and CTOs eye Sun's single-digit share price with a cautious eye. No one wants to bet their job on style lacking substance.
To counter some of the market worries, Sun has turned to, er, blogs. Lots of blogs.
Schwartz bragged that about 10 per cent of Sun's workforce wastes their time documenting horse births and bouts with diarrhea. Sun employs this globule army as a surrogate for an advertising budget. The CEO estimates that a million people are touched by Sun's blogs, which is almost like being touched by an angel except much creepier and sad.
And, as you all know, Schwartz is a blogging pioneer within the CEO set. So, when Markoff asked what would happen to Sun if it fired 15,000 people as some analysts have demanded, Schwartz gave the natural reply.
"No would answer the phone. My blog would be dark," he said.
In all seriousness, Schwartz's take on layoffs is either inspirational or naïve. Sun appears to fund close to a bubble-sized workforce despite not having a real bubble with which to play. But, where so many companies decimate their workforce for a quick financial fix, Sun has bet long-term.
"I don't believe employees are an expense," he said. "I don't believe they are a cost to be reduced."
It's that type of attitude that truly seems to separate Sun from its competitors.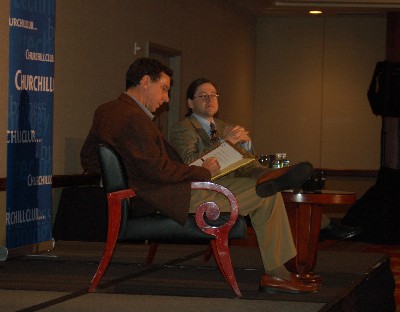 Sun continues to believe that its current UltraSPARC T1 server line will drive new business, as customers test out the low-power, multi-core gear. It's also looking for new x86 systems to drive growth.
The company, however, has yet to answer how it will keep midrange and high-end Unix sales increasing or how its Opteron servers will measure up against revitalized Intel hardware from rivals. IBM, for example, will roll out Power6 next year and almost certainly inject fresh life into its Unix line, while Sun will be strapped with a delayed chip from Fujitsu and promises that the Rock family of chips will come in 2008. Meanwhile, Sun says it can shift to Intel if need be, but its boxes are simply not built to handle Xeons today. So the move would take time.
Sun, like other server makers, could survive such hiccups by cashing in on the larger hardware build out that seems to be underway at the moment.
"I am actually not worried about demand anywhere in the world," Schwartz said, noting that customers like Verizon "can't build data centers fast enough."
Sun has tried to service the server happy crowd with its new White Trash Data Centers. The WTDC consists of a shipping container packed full of servers, storage and networking. Customers won't actually be able to buy the WTDCs until next Summer.
"If we wanted to take a purchase order now that would be no problem," Schwartz said, adding that large ISPs, financial services companies, oil and gas firms and the United Nations have all shown interest in the WTDCs.
Just how optimistic is Schwartz?
Well, he kept bringing up the bubble word. Although, he admits that he's not sure just how good things are at the moment.
"Don't ask me to tell you what a bubble looks like," he said. "I only know what they look like when they end."
We're guessing a profit might be one of the leading bubble indicators. ®
Bootnote
During the interview, Markoff dished some dirt on the HP scandal. Markoff was one of the reporters that HP spied on, and the company "won't stop apologizing" to him.
Former Chairwoman Patricia Dunn even sent Markoff an apology from her pesonal Yahoo! e-mail account.
"There was an ad at the bottom of her e-mail with the tagline 'How low can we go?'" Markoff said. "I sent a note saying that I hope she had a sense of humor. I didn't hear back."
Sponsored: Minds Mastering Machines - Call for papers now open