Intel Core 2 Extreme QX6700 quad-core CPU
Two cores bad - four cores good?
In all honesty, the QX6700 is not a replacement for the X6800 for a gamer - it's just not as fast for games, which tend to be single-threaded and hog one or two cores' CPU cycles. The upshot: Kentsfield's slower clock speed leaves it behind the faster dual-core X6800. This is ironic given the way the Core 2 Extreme brand is pitched almost exclusively at gamers - the one constituency who'll see the least advantage from the extra cores.
However, if you're after a seriously fast processor for rendering 3D models or for video processing, then quad-core is the way to go, providing you can justify the Extreme's $999 price point.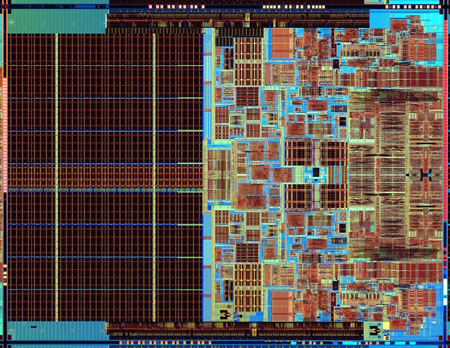 There is a 'but' here and it's called 'Clovertown'. This is Intel's upcoming quad-core Xeon processor, and it might be more appealing to anyone working with heavy-duty 3D content creation code, especially as you can fit two of these CPUs onto a single motherboard. There will also be a range of lower clocked processors that might fit you wallet better than a QX6700, although the top of the range version will set you back more than a QX6700. Alternatively, there is the 'standard' Core 2 Quad, the Q6600, which will be available some time early next year at a little more affordable price point.
There's no doubt that the QX6700 has potential, but it all comes down to operating system and application support. Move away from Windows and you might see some real advantages here. Linux users should see a bigger performance increase because the open source operating system's Unix core is better at handling multiple processors than Windows is. The Unix-based Mac OS X will see a boost too, when Apple migrates its Mac Pro to 'Clovertown'.
Intel's Extreme Edition CPUs always cost $999 in quantities of a 1,000, so expect the UK retail price to end up somewhere in the £650 region once VAT has been added. The Core 2 Quad will come in at $851, although this is 266MHz slower, but the big question here is how much difference that will make in terms of raw performance. Maybe not much, and that could give it a better price:performance rating than the QX6700.
The X6800 is expected to remain at its current price of $999, so if you expected this to come down in price as there's a new Extreme Edition out, then you may be disappointed. Given then the two Core 2 Extremes are the same price, the X6800 will, for a while, prove the better value CPU, delivering better games performance. But the QX6700 will shine in the future, as multi-threaded and/or better behaved games that don't hog the CPU become available. And, for that matter, benchmark apps better able to cope with more than two cores.
Verdict
The Intel Core 2 Extreme QX6700 offers a glimpse of what the future holds, but for now there are few apps crying out for a quad-core processor. Windows Vista may bring better support for multi-threading, ensuring each thread has the same access to CPU resources as the others, rather than allowing one to dominate, but it doesn't look promising. We also need to see better quad-core application support before there will be any major benefits to move to four cores over two. ®
Sponsored: Minds Mastering Machines - Call for papers now open

Intel Core 2 Extreme QX6700 quad-core CPU
The future may be quad-core, but for now two will deliver the best price:performance for most users...