Rackable sees red, despite sticky AMD
Facebook, YouTube and AOL buying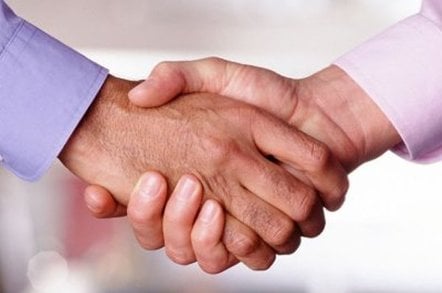 Server industry buffs really should take notice of Rackable Systems' earnings calls. The company has injected drama back into the hardware financial reporting game.
Three months ago, Rackable horrified investors by warning that its third quarter sales would fall below expectations. Investors whacked about 35 per cent off Rackable's share price as a result. Today, Rackable handed in its actual third quarter results, and they seem to have calmed investors' nerves.
The server and storage maker reported Q3 revenue of $81m - a 40 per cent year-over-year rise. On the downside, Rackable posted a loss of $389,000 for the quarter, which compares to net income of $4.4m in the same period last year. (Excluding stock options and charges related to the company's Terrascale buy, Rackable posted net income of $5.4m in this Q3 versus $4.7m last year.)
Rackable blamed high memory prices, a more competitive server market and an unfinished large deal for some of its third quarter troubles. Without question, the company's once meteoric growth has slowed.
Investors, however, felt good enough about the results to push Rackable shares up close to 7 per cent, at the time of this report, to $30.82 in the after-hours markets.
With the financials out of the way, we can move on with the drama.
Rackable's CEO Tom Barton does a great job of updating analysts and reporters about the competitive landscape in the server industry. The CEO is seeing a resurgent Dell and a sticky AMD.
"Dell, in particular, will be more competitive than it has been in recent quarters," Barton said, noting that Dell is in the process of rolling out new Opteron- and Xeon-based servers.
"Our observation is that Dell generally is the price setter in the market," Barton said. Given current prices being handed out by Dell, Rackable has forecasted some "degradation of server product gross margins in 2007."
In the past, Opteron-based servers have accounted for up to 90 per cent of Rackable's sales. The company, however, predicted that Intel's new Xeon chips would likely cut deep into the Opteron dominance. Not so.
At last check, 84 per cent of Rackable's sales came from Opteron-based systems with Intel filling out the rest.
"The phenomenon that we are seeing in Q3 and Q4 is that there is a fair amount of stickiness (around Opteron)," Barton said. "There have been more barriers to change than we had initially anticipated."
As it turns out, large customers that have already certified their Opteron-based systems are staying with the products rather than moving over to new Xeon-based kit. Go figure.
Back on the Rack
Turning to Rackable's financials again, we find the company quite happy with its top three accounts - Yahoo!, Microsoft and Amazon. In the last quarter, though, Rackable added some new customer names such as AOL, Facebook and YouTube. The company now has 12 customers which have purchased more than $1m of gear and 57 customers that have bought more than $100,000 worth of systems.
Such customer wins proved pleasing to a sappy financial analyst crowd on Rackable's third quarter earnings conference call. They've been concerned that the Big Three accounted for so much of Rackable's overall business. A bad quarter with Microsoft, for example, could wreck Rackable's near-term performance.
The analysts handed Rackable much embarrassing praise with statements such as, "Keep up the good work" and "Congratulations." Try shooting for an ounce of pride, boys.
Rackable hopes to acquire between 2 and 4 new customers that account for 10 per cent or more of its total revenue, putting them on close to equal footing with the Big Three. One such customer could come from the defense industry, while two others might come from the financial services industry, Rackable said.
The company managed to pull in $13m from storage sales during the third quarter, so that storage accounted for 16 per cent of total revenue.
Rackable upped its fourth quarter revenue projections, saying that revenue should come in between $100m and $110m. ®
Sponsored: Minds Mastering Machines - Call for papers now open