Liquid Computing's Opteron dynamo now more concrete
Is the price right?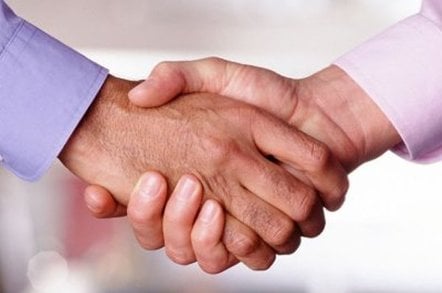 Liquid Computing has come to market at last with its high-end Opteron gear, but the company remains as elusive as ever.
A spokesman has assured us that customers can now order as many of the LiquidIQ boxes as they would like. At the base level, these systems can hold 80 dual-core Opteron chips in a 26U chassis. Customers can then connect up to 12 chassis via a high-speed, custom link. It's not hard to guess that the high performance computing crowd is the target audience here.
Of course, Liquid Computing is quick to point out that it's not just another box shop. The company has injected switches and ample I/O into a speedy midplane. The totality of all this hardware is then managed via some virtualization code. Customers can use that software to carve up the large physical servers into smaller system with say 16 chips and lots of memory or four chips and less memory.
But you're lucky to get even that much information. A dig on Liquid Computing's website won''t turn up much about the actual product. In addition, the company refuses to say how much it will charge for its systems.
(Seriously, if anyone out there can tell us what Liquid Computing sells by looking at their web site or this statement, please let us know. Politicians, you have met your match.)
"We will give prices to customers," a spokesman assured us.
Start-ups that refuse to reveal pricing or to provide much in the way of product specifics usually do so for a reason. But we'll leave it at that.
For the moment, the LiquidIQ boxes ship with Rev E versions of Opteron, although Rev F chips are coming by year end.
Liquid Computing, based in Ottawa, has yet to acquire a paying customer. So, if your company is looking for "a first" or an IT "breakthrough," it's time for you to make a call. ®
Sponsored: Minds Mastering Machines - Call for papers now open