Vista vouchers, a Reg round-up
We make the calls so you don't have to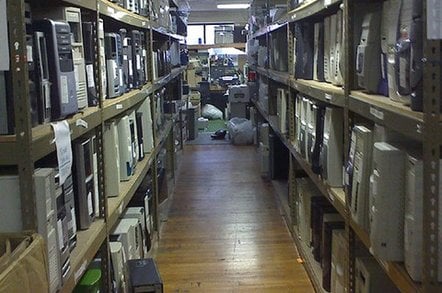 Any Reg reader considering their Christmas purchases and worried about what operating system they'll be cursed with can relax. We've rung round some of the major vendors and retailers.
First up for vacuous marketing puff is Dell who gave us this statement: "Dell is very excited about Windows Vista. The new operating system is expected to deliver revolutionary changes in how customers use personal computers for entertainment and productivity. Dell will participate in Microsoft's Express Upgrade to Microsoft Vista programme and with Dell's Express Upgrade programme consumer and small business customers will easily be able to redeem their upgrade to Vista on select desktops and notebooks purchased between Oct 26 and March 15 2007. Dell-specific tools shipped with the upgrade will help customers easily install Vista when it becomes available."
Rather more informative was HP. We spoke to Rob Crampton, consumer desktop manager for HP, who told us: "We've not seen much evidence of demand lagging, but it's good to avert people's concerns. Christmas is still the biggest spike for consumer demand and laptop prices now mean they are a Christmas present. From today there are two upgrade paths. From XP home to Vista basic will cost a royalty payment and shipping costs. For people buying media centres it will be a royalty-free upgrade."
Crampton said HP was confident that support would be able to deal with any hassles people have with upgrading their machines.
PC World is offering upgrades for anyone buying a computer costing more than £399. From yesterday until 15 March 2007 any machine costing more than £399 will get a free upgrade to Vista Basic Home Edition. Machines below this price will get upgrades for half the recommended retail price.
Lenovo had the following to say: "Lenovo is committed to supporting the launch of Windows Vista and all our notebooks and PCs will be 100 per cent compatible with this new operating system. Lenovo's Express Upgrade to Vista programme, ensures all customers purchasing a Lenovo Vista capable or Vista Premium ready notebook or PC have the ability to upgrade to the new operating system once it is released Lenovo realises that customers do not want to wait until 2007 to purchase a new PC when the new operating systems is launched. Because many Lenovo PCs are Vista capable or Vista Premium ready, they are able to purchase a Lenovo PC with confidence that their PC can run Windows Vista, thereby protecting their investment. Further information about the Lenovo and Microsoft alliance can be found here". ®
Sponsored: Minds Mastering Machines - Call for papers now open