Evesham Mini PC
Tiny desktop powered by Core 2 Duo
The TV aerial I mentioned connects to a DVB-T digital TV tuner that sits in the mini PCI card slot that might otherwise be occupied by a wireless card. This emphasis on media and entertainment is reinforced by the inclusion of Windows XP Media Center Edition and the Windows MCE remote control, CyberLink PowerDVD 6 and Roxio Easy Media Creator 7, as well as Evesham's usual BigFix maintenance tool.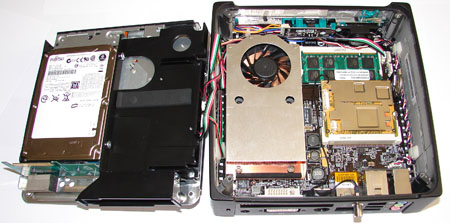 It's not difficult to get inside the chassis as the flimsy plastic top pops off to reveal a metal lid that is secured by four screws. Whip them out and the top half of the chassis lifts off complete with the hard drive to reveal the processor cooler, memory and TV tuner. Putting the chassis back together is rather more fiddly, as the SATA drive uses a riser that plugs into the motherboard. The riser's pins have to be lined up blind. But apart from the CPU and hard drive, the potential here for hardware upgrades is just about non-existent.
Performance is nothing to get excited about but you wouldn't expect to play the latest games on Intel's integrated graphics engine, so that's not much of an issue. The Mini PC will handle media and office duties with aplomb.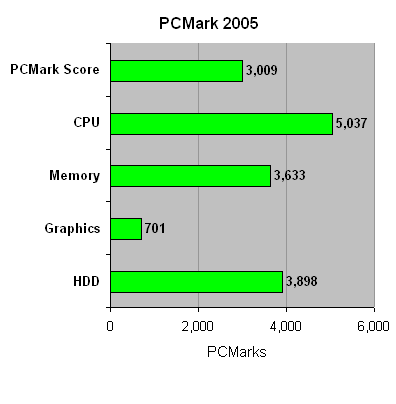 The problems arise when you consider the price and the competition, by which we mean Apple. The Evesham will cost you £799 inc VAT but that doesn't include a mouse, keyboard or monitor, so it's quite expensive. You can but a similar spec Mac Mini for £640 although it has a Core Duo processor, rather than a Core 2 Duo. Frankly, I doubt that you'll see much difference between the two mobile processors in this sort of computer.
The alternative would be a 17in iMac with Core 2 Duo and ATI Radeon X1600 graphics for £799, which matches the Evesham on specifications, but includes a display in the price.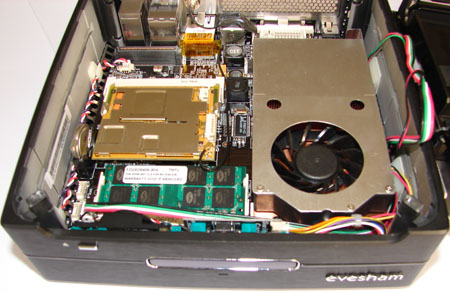 If you're looking for a small, stylish alternative to the PC then your first port of call is surely going to be the Apple store. If you want a small Windows machine that you can lock away securely in a desk drawer then the obvious choice is a laptop for £499, which still gives you the option of using the same keyboard, mouse and monitor that you would use with the Evesham. It's not that the Evesham is bad - it's not, by any means - but it seems to be stuck in an incredibly small niche in the market.
Verdict
Evesham has packed Core 2 Duo power into a tiny, nice-looking chassis. But let's face it, if you want real style you choose an Apple and you'll also save useful amounts of cash if you buy a Mac mini. ®
Sponsored: Minds Mastering Machines - Call for papers now open

Evesham Mini PC
It's tiny, it's versatile, but it's not a Mac Mini...