Evesham Mini PC
Tiny desktop powered by Core 2 Duo
Review Ever fancied a black Mac Mini? Well, the Evesham Mini PC isn't quite a Mac mini, nor is it exactly black, but on both points it comes close. Evesham's box is based on the tiny MP945-VXR chassis from AOpen, which has been out to out-Mini the Mac Mini for a couple of years now. The Mini PC measures 17 x 17cm and stands 6.1cm tall. Or perhaps that should be 6.1 cm low?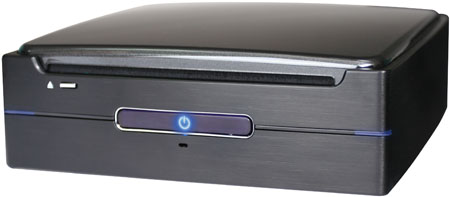 The AOpen product is a barebone system to which Evesham has added a Core 2 Duo T7200 CPU that runs at 2GHz on a 667MHz frontside bus, making this the first tiny desktop to hit the streets with a 'Merom' mobile Core 2 Duo. Apple's Mac Mini has a Core Duo, but we'll come to that in a while. You can pay £125 for an upgrade to a 2.16GHz model or an extra £320 if you feel the need for 2.33GHz chip.
As you'd expect with such a tiny chassis, AOpen has used mobile technology throughout its machine. The chipset is an Intel 945GM with a GMA 950 graphics engine and the ICH7-M South Bridge to handle the I/O. The motherboard supports a single SO-DIMM of memory, so it's limited to a single-channel configuration. Evesham has selected 1GB of PC2-5300 RAM that runs at an effective speed of 667MHz.
The hard drive is a 100GB Fujitsu notebook drive that spins at 5,400rpm. You can have it upgraded to a 7,200rpm model which will cost you an eye-watering £70. No, the real issue is that notebook drives don't have a lot of capacity. If you start recording TV you may end up pressing the Firewire port into service to support an external drive.
There's a Realtek HD Audio controller on the board, which is connected to a tiny speaker in the case and this is just about adequate for "You've got mail!" Windows sounds, but if you intend to enjoy your music or TV then you'll need to plug in some headphones or external speakers. You get the usual mini jacks for speakers and microphone but the line-in jack doubles up as optical output once you plug in an adapter (supplied), so that would be the preferred option if you fancy surround sound.
The case is a stylish matt black aluminium affair with blue and red activity lights and a slot-loading Matsushita UJ-845S DVD writer at the front, that takes after the vicious cash register in Open All Hours. You feed the disc in ever so gingerly and then it suddenly snatches it from your fingers and gobbles it up. There are no ports on either side of the chassis so all of the action takes place at the rear.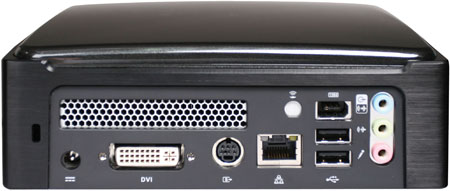 Here, there are two USB 2.0 ports, one Firewire port, Gigabit LAN, s-video output, DVI, a power connector and a connection point for an RF TV aerial. You'll need both USB ports for a mouse and keyboard - unless you choose to use a USB hub - and if you have an analogue display then you'll need to use the bundled branched adaptor which has both VGA and DVI ports on it. The 19V power supply is an external brick that's quite modest compared to many laptop power supplies and as it's rated at 3,420mA, we can calculate it's rated at 65W which is miniscule for a PC. Still, it's outside the case rather than inside so it's yet more clutter for your desk or the space beneath it. There's an adaptor for the TV port so you can plug in a coaxial cable, and another adaptor for the s-video output that branches to s-, composite and component-video connectors. Plug that lot in and the tiny chassis looks as though it has been enveloped by an octopus.
Sponsored: Minds Mastering Machines - Call for papers now open