BitTorrent embeds download manager
P2P that bypasses the PC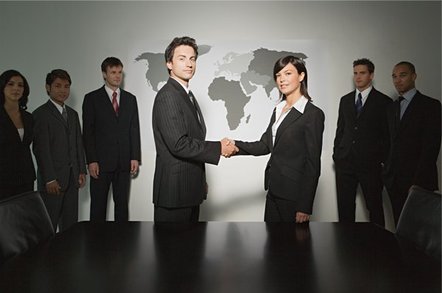 There are a lot of assumptions that have to be made about the news that BitTorrent has cut deals with three consumer electronic companies that will embed the BitTorrent download manager client directly into their devices. The devices include home routers and networked attached storage farms.
We assume that the old BitTorrent and the new BitTorrent don't speak to one another? Or do they? If they did, existing illegal BitTorrent tracker sites would still allow these new CE devices to work with illegal copying sites, even though BitTorrent the company would not be endorsing that.
When BitTorrent author Bram Cohen went legit last September and raised $8.75m in venture funding to develop commercial distribution tools for media companies, he foreswore the promotion of piracy, but by not articulating the detailed manner in which the company will block piracy using these devices, it suggests the door is half open at least.
It could be that these devices will only be set up to hit specific remote web locations to get information about where the "legal" swarms of data for copyrighted material live. But we're pretty sure that it would be easy to subvert that and use this version for piracy.
If the system now came with a filter, a piece of software that took a fingerprint of video and compared it with a database of signatures to establish that where it was copyrighted, a legitimate transaction took place to acquire it, then that might get around the problem.
The fact that the three CE firms are companies we've never heard of in Asus, Planex and QNAP, makes us worry that bigger companies are steering clear to ensure they are not tainted with even the faintest whiff of piracy, even if it is by people subverting the way these new devices are supposed to work.
But that doesn't stop the idea from being a good idea, bypassing the PC and going straight to a DVR or storage device with P2P. We'd just want to ensure that all CE equipment was a) set up with the same P2P system, and b) that it was one that had never been used to support piracy, for instance the system favoured by the BBC, AOL and BSkyB called Kontikki.
Cohen has been in several negotiations with studios to makes films available through his new service, and has had some success and announced a few deals, but more than a year since forming his venture, Cohen does not yet have a live film service. Can't say we're surprised.
Copyright © 2006, Faultline
Faultline is published by Rethink Research, a London-based publishing and consulting firm. This weekly newsletter is an assessment of the impact of the week's events in the world of digital media. Faultline is where media meets technology. Subscription details here.
Sponsored: Minds Mastering Machines - Call for papers now open