Nokia N73 3G smart phone
Does it have the X-Factor?
Video works well enough: the lack of video stabilisation shows, especially if you're used to a camera with it and don't have the steady hands of a professional. A second front-facing camera is also provided, in case you decide to make a video call.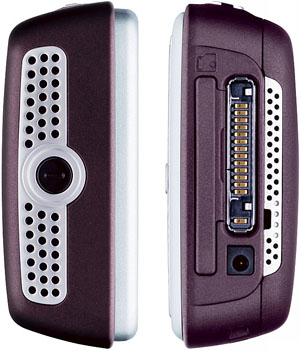 Without memory expansion there is very little point trying to shoot video, or even take more than a few photographs. Nokia doesn't bother to supply a MiniSD card with the handset which is probably for the best as it would only get upgraded and discarded anyway, so a 1GB MiniSD card should certainly be on the shopping list of anyone looking to buy an N73. The card slots in the bottom of the phone, past a fragile-looking plastic cover, but it is unlikely to be changed regularly so that shouldn't matter.
Making and receiving calls is something of a given for a Nokia handset these days. Indeed, making a call isn't even mentioned until more than two thirds of the way through the N73 manual. But the lack of focus is no reflection of a lack of attention. The N73 makes and receives calls perfectly - the speakerphone (mono, using only the top speaker) is typically clear and works well enough in a quiet room. There is also plenty of time to make those calls, as the battery life is astounding. Nokia quotes a standby time of ten days and even with heavy use this isn't a phone you'll need to charge more than every few days. This kind of battery-life is normal in less smart handsets, but to see it in a smart phone is a welcome sign of how things are developing.
All the normal acronyms are supported, including GPRS, WCDMA (3G) and EDGE, but not HSDPA. It also supports the full range of GSM frequencies, including the generally-hard-to-find GSM850. The lack of HSDPA is slightly disappointing for a S60 device, with so many data-centric applications available it's hard to justify that this is primarily a voice device.
There's quite a bundle of applications included on the phone, including 3D Snake but no patience game - though given the quality of the one bundled with the N93 that is no loss. Synchronisation is through Nokia PC Suite, which is great if it works for you, but a pain to configure if anything goes wrong. The usual calendar, messaging and contacts applications, along with viewers for PDF and Microsoft Office files are included and work acceptably well. It would be nice to switch to landscape manually when viewing a document, but no doubt some third-party tool will come along to fix that.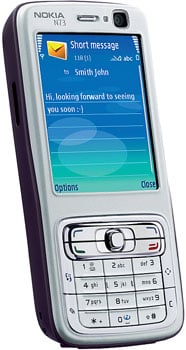 If your network operator supports Wireless Village for instant messaging then you can use the built-in messaging client too. This works well, but it's not easy to find a network which supports it. Nokia has also included a link to F-Secure Mobile Anti-Virus, for the truly paranoid. Given that it's possible to count the instances of Symbian malware on the fingers of one hand, creating a package to identify them can't be very difficult. Protection would be more easily assured by only installing signed applications, or only Java MidLets, rather than spending money on additional protection, but if the threat develops then it might make more sense in future.
Verdict
Nokia's N73 is a good looking and practical phone and one which can also take pretty pictures, wobbly video and play back music. It won't replace a digital camera for most people or a hi-fi system for anyone with hearing, but provides those functions on the move. It would be most at home in a corporate meeting room, or on the table of a good restaurant, but isn't ideal for the large- or left-handed.
It might not win X-Factor, but the publicity gained from coming close would launch a decent enough career anyway. ®
Sponsored: Minds Mastering Machines - Call for papers now open

Nokia N73 3G smart phone
Excels at being a 3G phone, and can do other stuff too...
Price:
£300 inc VAT SIM-free; network pricing depends on contract RRP