RSA looks to dodge EMC's integration record
...with more acquisitions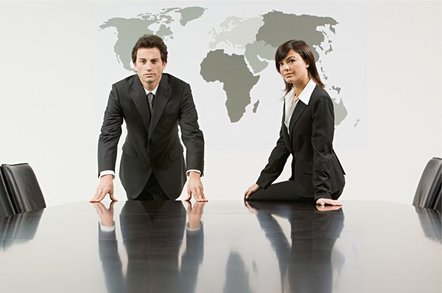 EMC's job cull, announced last week, was precipitated by a failure to fully exploit its lengthy acquisition roster.
"A lot of lack in integration," was to blame for the cuts, Dennis Hoffman, VP of enterprise solutions for recent buy RSA said. The new security division of EMC will escape any cuts, but the firm has moved swiftly to try and dodge a similar fate.
Back at EMC, Hoffman sized up RSA for the $2.1bn buy-up earlier this year and is now tasked with swerving the new security division away from the same complacency which sent 1,250 EMC staff packing. A dedicated integration group of up to 50 mostly engineering staff is working to identify joint product offerings. Some 213 customers have already closed on joint EMC/RSA deals this quarter, Hoffman said.
The establishment of a security division was a keystone in EMC's vision of Information Lifecycle Management (ILM). As things stand, it and IBM are the two vendors with a realistic claim of being able to offer ILM.
The two have been engaged in an acquisition tit-for-tat for a while now. EMC bought Documentum. IBM followed suit into content management with the FileNet buy; until then it was reselling for Documentum. The two units respectively form the "brains" of each firm's ILM strategy.
Hoffman denied, however, that EMC's Network Intelligence buy was a response to Big Blue coughing $1.3bn for Internet Security Systems. Instead, Network Intelligence was picked to "close the loop" EMC had identified of "set, enforce, audit" for security, with RSA amply providing the first two goals.
Plenty of RSA staff we've spoken to were shocked to have been bought by a storage vendor, but it all makes perfect sense to the EMC boardroom. The genius of ILM from a vendor marketing standpoint is that it is so all-embracing; for a firm like EMC which has confused some with its ceaseless software shopping, ILM is the perfect strategic catch-all. The flipside is it has to keep up with the IBM Joneses if it wants to continue to tout it and not look silly.
EMC CEO Joe Tucci has set a target for the security division of his ILM grand design of pulling in $1bn by the end of the decade. With RSA netting around $310m in 2005 and Network Intelligence just $25m, along with the nature of ILM, sheer market forces dictate that further big security-related acquisitions are on the cards.
Next year's $500m target is achievable as the division now stands, but 10 figures is still a couple of aqcuisitions away.
Hoffman said customers were asking RSA's newly ILM-tooled-up consultants about what they can offer in terms of data leakage. Right now, they've got nothing, and any firms being courted probably have another suitor in the equally shop-happy form of Cisco, which sees data leakage as a networking issue it has an opportunity to own.
Security policy firms and other professional services are being eyed up too, which could run nicely with Network Intelligence's security auditing role. ®
Sponsored: Minds Mastering Machines - Call for papers now open